1961 Aston Martin DB4 Series II (Returning to Owner)
ENQUIRE NOW
£549,995
Use our bespoke finance calculator to discover how we could help you to get the car of your dreams.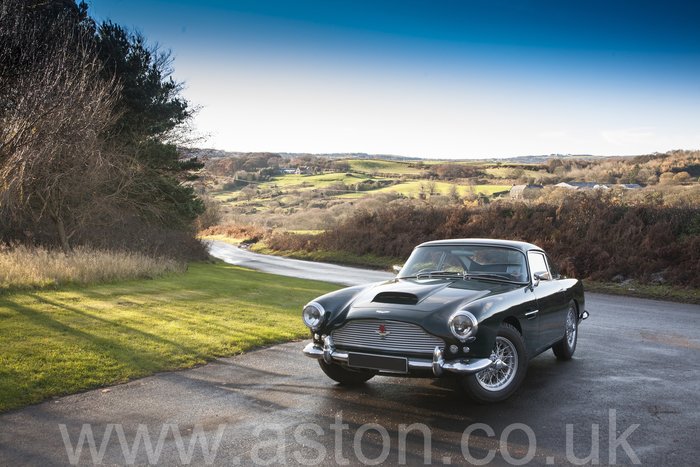 We're delighted to offer for sale this stunning and very original Aston Martin DB4 Series II. With 4 previous owners since 1961 this example is in the original Goodwood Green with Black leather specification, exactly as it left Newport Pagnell all those years ago.

This DB4 has been enjoyed in the UK as well as the United States and has been back on home soil since 2001. Having been well maintained throughout, it has a comprehensive document history with 5 folders of invoices and work notes. Having covered a total of 97,431 documented miles it is in perfect condition, ready to be enjoyed and would be a fantastic addition to any classic car enthusiast's collection.

For further information or to arrange a private viewing of this DB4, please contact our sales team who will be happy to assist.

-----------------------

Brief history of the Aston Martin DB4

Announced at the Paris Motor Show in October, 1958, the DB4 ushered in a radical departure for Aston Martin in its determination to be a force in the production of true world beating manufacturers of GT cars of the very highest performance.

The DB4 required a totally new platform chassis that was designed by Harold Beach, the chief chassis engineer, and was given radical new body styling by Touring of Milan. A new form of body construction used the Superleggara principle of a light tubular structure that was then clothed in an aluminium body shell. Patented by Touring, it was a form of construction that was followed in principle all the way to the Virage of the early 1990s. A totally new all aluminium, twin overhead cam straight 6 cylinder engine, running in an extremely generous 7 bearing crankcase, endowed the DB4 with a step change in performance and a useful saving of weight from the previous cast iron engines used in the DB2. There was no other car in production that could better its time of 0 to 100 mph of 20 secs and few the equal of its top speed of 140 mph, when the DB4 was announced in 1958.

The DB4 included many lessons that Aston Martin had learnt from its racing heritage, influencing suspension and engine design, braking and aerodynamics. The one major disappointment was the use of a conventional rear axle, all be it very well located, in preference to the use of a De Dion independent rear suspension because of cost, technical and production risk.

The DB4 is still one of the most beautiful and iconic cars of all time. Instantly recognised as an Aston Martin, the classical and perfect proportions of the early series DB4s has never been bettered. It is a style that looks right from every angle and it is not without reason that it has set the tone for every subsequent Aston Martin to this day.

On its debut in October 1958, the DB4 was hardly fully developed, nor was Aston Martin ready to start series production and it was not until later in 1959 that series manufacture started in earnest.

The DB4 evolved over 5 distinct series, each bringing useful improvements, as lessons learnt became known from owners' service experience. By the time the fifth and final series started in production in l962, the DB4 had evolved into a very reliable, comfortable and rapid Grand Tourer of the highest performance.

Series II cars carried over the rear body design and proportions of the Series 1, but came with rear opening bonnet, significant engine modifications (which many of the Series 1 cars were later retrofitted with), uprated brakes and framed door windows.