1967 Aston Martin DB6 Sports Saloon
ENQUIRE NOW
£199950
Use our bespoke finance calculator to discover how we could help you to get the car of your dreams.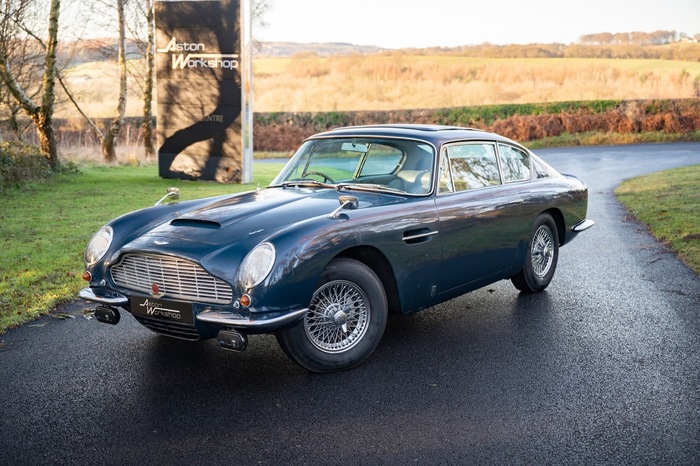 Present ownership since 1972
An automatic transmission model finished in Dawn Blue with grey leather interior, Webasto Sunroof, this late 'Mark 1' DB6 was retailed via H R Owen Ltd and first owned by Doctor J B Labia of South Kensington, London SW7, who covered some 17,000 miles in the car's first two years. The second custodian took the total to 40,000 miles before the Aston was sold to the current vendor in 1972. There are 39 tax discs on file issued between June 1974 and January 2013, and for some of that time the car carried the private plate 'JR 397'. The original service voucher booklet is present also, recording H R Owen's services and the odometer readings from 1968 through 1971. The car also comes with its jack and instruction book.
This DB6 is in original, un-restored and in reasonable condition taking these into consideration is very competitively priced to sell, the only listed deviations from factory specification being an alarm system; a stainless steel exhaust system; and later stainless steel wheels, (fitted in 2013), the current odometer reading is 83,198 miles.
Stage by stage, as the DB has become dominant in the Aston Martin strain, the successive cars have changed their image. Today the aim is to offer the maximum of luxury and refinement as well as the ultimate in road performance. The minor barbarities of so many great sports cars of the past are no longer acceptable – at least in the hand-built models now leaving Newport Pagnell. Obviously, such a car as the DB6 is expensive and exclusive but the value matches the price.' – Autocar, 1966.
The culmination of Aston Martin's long-running line of 'DB' six-cylinder sports saloons and thus considered by many to be the last 'real' Aston, the DB6 had been introduced in 1965, updating the DB5. Although recognisably related to the Touring-styled DB4 of 1958, the DB6 abandoned the Carrozzeria Touring-developed Superleggera body structure of its predecessors in favour of a conventional steel fabrication while retaining the aluminium outer panels.
Increased rear-seat space was the prime DB6 objective so the wheelbase was now 4" longer than before, resulting in an extensive restyle with more-raked windscreen, raised roofline and reshaped rear quarter windows. Opening front quarter lights made a reappearance but the major change was at the rear where a Kamm-style tail with spoiler improved the aerodynamics, greatly enhancing stability at high speeds. These many dimensional changes were integrated most successfully, the DB6's overall length increasing by only 2". Indeed, but for the distinctive Kamm tail one might easily mistake it for a DB5.
'The tail lip halves the aerodynamic lift around maximum speed and brings in its train greater headroom and more luggage space,' revealed Motor magazine, concluding that the DB6 was one of the finest sports cars it had tested. 'The DB6 with its longer wheelbase and better headroom makes an Aston Martin available to the far wider four-seater market, and the design is in every way superior to the previous model. A purist might have thought that the longer wheelbase would affect the near-perfect balance of the DB5, but if anything the DB6 is better.'
The Tadek Marek-designed six-cylinder engine had been enlarged to 3,995cc for the preceding DB5, and remained unchanged. Power output on triple SU carburettors was 282bhp, rising to 325bhp in Vantage specification. Borg-Warner automatic transmission was offered alongside the standard ZF five-speed manual gearbox, and for the first time, there was optional power-assisted steering.
Last-of-the-line models are always sought after by discerning collectors and few are more highly prized than the final flowering of the glorious 'David Brown' six-cylinder series, the DB6, considered by many to be the last of the 'real' Aston Martins.
For further information or to book an appointment to view the vehicle please contact a member of the sales team on 01207 233525.
About Aston Workshop:
Aston Workshop is an independent Aston Martin specialist located on Red Row Estate, an idyllic 37 acre venue set in the North East countryside. Red Row is located in County Durham, only 2 miles away from Beamish Museum, one of the North's major tourist attractions. We offer a wide variety of contemporary Aston Martins for sale in our showroom including special editions, low mileage examples and high-performance models. Typically we have around 80 cars on-site at any given time. Additionally, we have an unrivalled selection of valuable heritage models which are rare and often rebuilt to bespoke specifications with discrete modern enhancements. Typically stocking fully restored examples, older restorations, drivers, 100% electric zero-emission EV conversions and even barn finds, our showroom is an unrivalled experience for the Aston Martin Enthusiast. We also build cars such as our DB4 GT Zagato recreations and our V8 Evolution 6.0.
Our sales showroom is supported by over 40 vastly experienced workshop staff working with a wide range of comprehensive in-house facilities including all aspects of Aston Martin diagnosis, repair, servicing and restoration to concours standards. Each member of our team works hard to ensure that we stay at the forefront of Aston engineering technology, Aston parts supply and full restorations including fixed-price services where applicable.
Our experienced team are also pleased to help and advise if you are a collector or seeking to purchase a car specifically for investment purposes.
The benefits of buying and selling with us include:
Nationwide collection and delivery service on our own covered transporters
Cars which are prepared by technicians working exclusively on Aston Martins
Our own Aston Workshop Warranty
A comprehensive customer service that truly works for the duration of ownership
The confidence of dealing with a leading independent specialist established over 30 years