1968 Jaguar E-Type Series 1 4.2 Semi-Lightweight
ENQUIRE NOW
£139,990
Use our bespoke finance calculator to discover how we could help you to get the car of your dreams.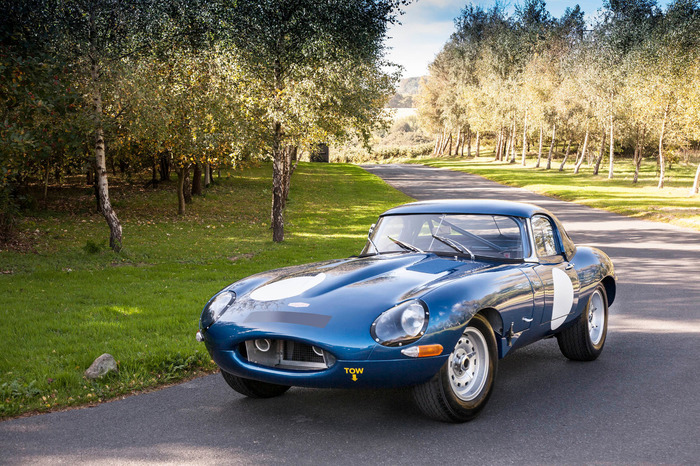 The re-creation of a factory race car from the 1960's is not a task to be taken lightly. This delightful vehicle we now offer to the public is no different. The hours and materials to build something of this magnitude far exceed any amount that could be recouped from the finished car's sale. The core component of the Semi-Lightweight E‑type is its aluminium bodyshell. This material replaced the steel of the production E‑type in the quest to shed weight – some 114kg were saved compared with the standard car. Since building this re-creation the owner has used the vehicle sparingly and has yet to race it. With the majority of current examples on the market beaten up from track use this makes for an exceptional opportunity to obtain an immaculate Lightweight example.
Life began for this vehicle in 1968 when it was delivered in 4.2 LHD layout to Mr James M Johnson of Columbus, Ohio on the 5th of October 1968. The car remained in the USA until 2004 when it was imported to the UK and enjoyed for a number of years still in its factory form. In 2011 the vehicle was subject to a full "nut and bolt" re-creation to RHD Semi-Lightweight specification. No expense was spared and help from numerous marque specialists were used in the process. Bodywork includes correct alloy bonnet, hard top, doors, boot lid, rear wings and Le Mans sills, which are all finished in stunning Ecurie Ecosse signature 'Flag Blue'. In continuing fashion the vehicle sports upgraded brakes and has brake cooling ducts. Other notable features include Koni front and rear shock absorbers, custom made lightweight wiring loom, 125ltr lightweight spec racing fuel tank, lightweight seats, appropriate die cast aluminium Dunlop style wheels, lightweight spec spinners and peg drive hubs. The vehicle is also fitted with a full roll cage made by Custom Cages out of T45 material.
In conjunction with the restoration, the engine was rebuilt by marque specialist CKL Developments. As well as being completely overhauled from the ground up it boasts the use of D-type racing cams, larger D-spec inlet and exhaust valves, uprated lightweight followers and springs, a high flow oil pump, uprated starter motor, Mallory dual point distributor and a lightened flywheel. Also the cylinder head was ported, gas flowed and converted to mate with Weber carbs. In testing on the rolling road dynamometer, the engine produced an impressive 286bhp at the wheels (circa 340bhp at the flywheel) and this is something the history file records evidence of. One of the lasting impressions the engine leaves on the beholder is just how responsive and energetic it is throughout the rev range. A Borg Warner 5 speed straight cut gearbox was fitted to ensure reliability with the extra power output and to emphasise the overall race inspired feel of a genuine lightweight.
A loaded history file containing extensive build photos, test certificates and in physical and digital form compliment the history of the car. Original service passport, instruction manual and owners delivery "dog tag" are together with the vehicle. Scrupulous records of build invoices prove this vehicle is priced exceptionally competitively. With a fresh major service this vehicle is ready to drive out of our showroom and due to this we recommend not hesitating to come and see this vehicle for yourself as it is decidedly up to withstanding close inspection and scrutiny. If necessary we can discuss getting this vehicle FIA approved which we believe will take minimal effort.
To arrange a viewing please contact our sales team on +44 (0) 1207 233 525.