1974 Triumph TR6
ENQUIRE NOW
£29,990
Use our bespoke finance calculator to discover how we could help you to get the car of your dreams.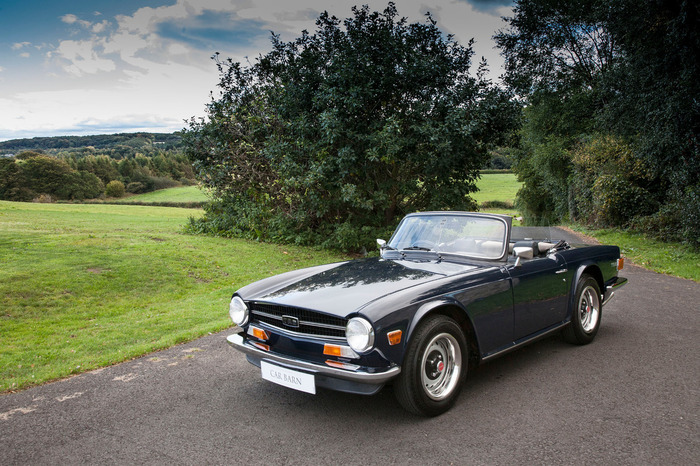 We are delighted to offer for sale this stunning 1974 Triumph TR6. TPX 893M began life as a Carmine Red CR spec example with tan interior until being garaged for a significant amount of time. When the car was uncovered it was clear it has had a very sheltered life and was presented in time warp condition to the extent that all of the body panels present today are original with no welding repairs carried out.
The car has been subject to an extensive body off restoration, which was photographed and documented in detail and there is a large history file with invoices and supporting documentation. There is also a superb hard back build book included to give a real insight into the fantastic work undertaken.
The restoration included a colour change to the handsome Triumph Royal Blue with Black mohair hood and a Black interior with leather seats and a gorgeous walnut dashboard. The fit and finish is superb throughout and with less than 50,000 genuine miles recorded it is no surprise.
The bodywork is flawless with a fantastic paint job, excellent panel gaps and the chrome work is lovely. The outward appearance is totally standard and enhanced by a great set of Avon CR6ZZ tyres.
Under the exterior there are a few light upgrades to mention: a high torque starter motor, electronic ignition, unleaded CP spec cylinder head, Bosch fuel pump conversion and stainless steel exhaust. All very sensible upgrades to make it a more reliable and driveable classic.
This particular example is in great condition and ready to be enjoyed.
For further information or to arrange a viewing please contact our sales team.