1969 Morris Minor 1000 Convertible
ENQUIRE NOW
£17990
Use our bespoke finance calculator to discover how we could help you to get the car of your dreams.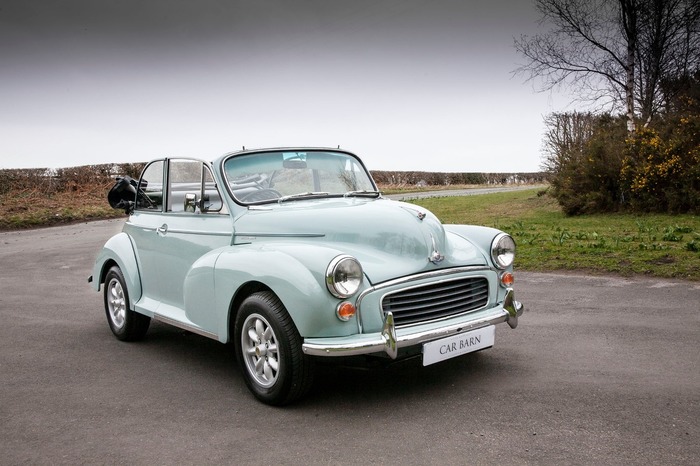 We are delighted to offer for sale this Morris Minor 1000 Convertible.
Converted 21 years ago and updated and upgraded for fun since then, it goes, sounds, corners and stops better than when it left the factory.
Kept in a garage and not getting out much, it needs someone to love it AND use it!
If you know your Morris Minors and want to have some great fun this summer, then read on:
Under The Bonnet
- Engine – 1275 MG Midget
- SU HIF44 carburettor with K&N Filter
- Solid State SU Fuel Pump
- Electric Fan
- Alternator
- 123 Distributor Solid State Ignition + Igniter coil
- Piper X crankcase breather
- New duplex timing chain
- Remote spin on oil filter
- Re-cored radiator
- Negative Earth
- Remote reservoirs for clutch and brake fluid
- Hydraulic clutch
- Roller clutch release bearing
- Midget diaphragm clutch
- Morris ribbed gearbox (original)
- Midget 3.7 : 1 differential
- Brake servo
- Quality electric screen washer/reservoir
- Stainless steel exhaust
Suspension
- Lowered 1 spline front, 1.5" lowering block on the rear.
- Telescopic shock absorbers front and rear
- Front antiroll bar
- Vented front disc brakes
- Wheels 14" locking minilite alloys with as new Michelin Energy 175/70 R14 tyres
Inside etc
- Interior is lovely, recent front seat diaphragms cushions and covers, carpets and MM mats
- Extra gauges
- Inertia reel seatbelts front and rear
- Newish hood
- Halogen headlights
Body
- In good condition with lovely patina and signs of being a 45-year-old Morris Minor, paint starting to show its age.
- This is not a concours resprayed Morris Minor, it is a well-loved if underused steadily evolved Morris that has given lots of fun and can surprise many on the road.
- This car is for driving not for showing.
For more information and to arrange a viewing please contact Jonathon Webb on Jonathon@Carbarn.co.uk or on +44(0)7442 897760