1979 Aston Martin V8 Volante 6 Speed Automatic
£149950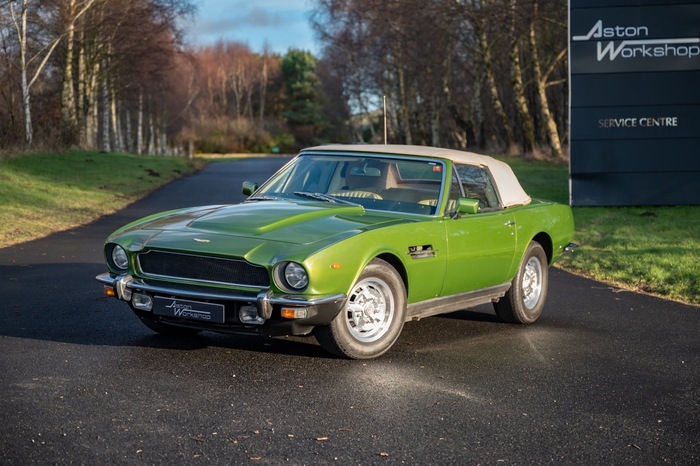 "This beautiful example is presented in factory colours of Orchard Green metallic exterior with a Magnolia Leather interior with matching vinyl hood."
This Car
This 1979 V8 Volante, in it's original specification of Orchard Green metallic over Magnolia leather, represents a fine example of one of Aston Martin's most popular models. Tastefully upgraded to provide a more modern driving experience, the exterior remains faithful to the William Towns design. Work carried out at Aston Workshop on this car includes:
Complete engine rebuild, including taking the capacity up to 6.0L and adding fuel injection.
Modern 6 speed Touchtronic automatic transmission fitted.
Brake overhaul including uprated brake pads.
New suspension bushes, bearings and shock absorbers all round.
Differential full rebuild.
Strengthening work on the differential cradle in line with the increased power.
Alloy wheels refurbished and fitted with fresh tyres.
Chassis fully inspected with repairs where needed.
Upgraded Air Con with modern componentry.
All work carried out here at Aston Workshop is detailed in the cars comprehensive history folder. The car had carried out approximately 76,000 miles ahead of our upgrade work, with only 3790 miles completed since the full engine rebuild. Our helpful sales team are happy to discuss the car in further detail; please call +44 (0) 1207 268 932 / +44 (0) 7827353195 or email sales@aston.co.uk.
The V8 Volante
When the DB6 Volante ended production n 1970, Aston Martin had been left without a convertible in the model range despite huge demand. The V8 Volante, introduced in 1978, remedied this with the wildly popular new Aston. American orders were so high that RHD models didn't exist for many months. Featuring the 5.3L Aston Martin V8, the V8 Volante married contemporary looks with world-leading performance producing a car that is still desirable to this day, often commanding 100% premiums over the coupe V8s.
About Aston Workshop:
Aston Workshop is an independent Aston Martin specialist located on Red Row Estate, an idyllic 37 acre venue set in the North East countryside. Red Row is located in County Durham, only 2 miles away from Beamish Museum, one of the North's major tourist attractions. We offer a wide variety of contemporary Aston Martins for sale in our showroom including special editions, low mileage examples and high-performance models. Typically we have around 80 cars on-site at any given time. Additionally, we have an unrivaled selection of valuable heritage models which are rare and often rebuilt to bespoke specifications with discrete modern enhancements. Typically stocking fully restored examples, older restorations, drivers, 100% electric zero-emission EV conversions and even barn finds, our showroom is an unrivaled experience for the Aston Martin Enthusiast. We also build cars such as our DB4 GT Zagato recreations and our V8 Evolution 6.0.
Our sales showroom is supported by over 40 vastly experienced workshop staff working with a wide range of comprehensive in-house facilities including all aspects of Aston Martin diagnosis, repair, servicing and restoration to concours standards. Each member of our team works hard to ensure that we stay at the forefront of Aston engineering technology, Aston parts supply and full restorations including fixed-price services where applicable.
Our experienced team are also pleased to help and advise if you are a collector or seeking to purchase a car specifically for investment purposes.
The benefits of buying and selling with us include:
Nationwide collection and delivery service on our own covered transporters
Cars which are prepared by technicians working exclusively on Aston Martins
Our own Aston Workshop Warranty
A comprehensive customer service that truly works for the duration of ownership
The confidence of dealing with a leading independent specialist established over 30 years