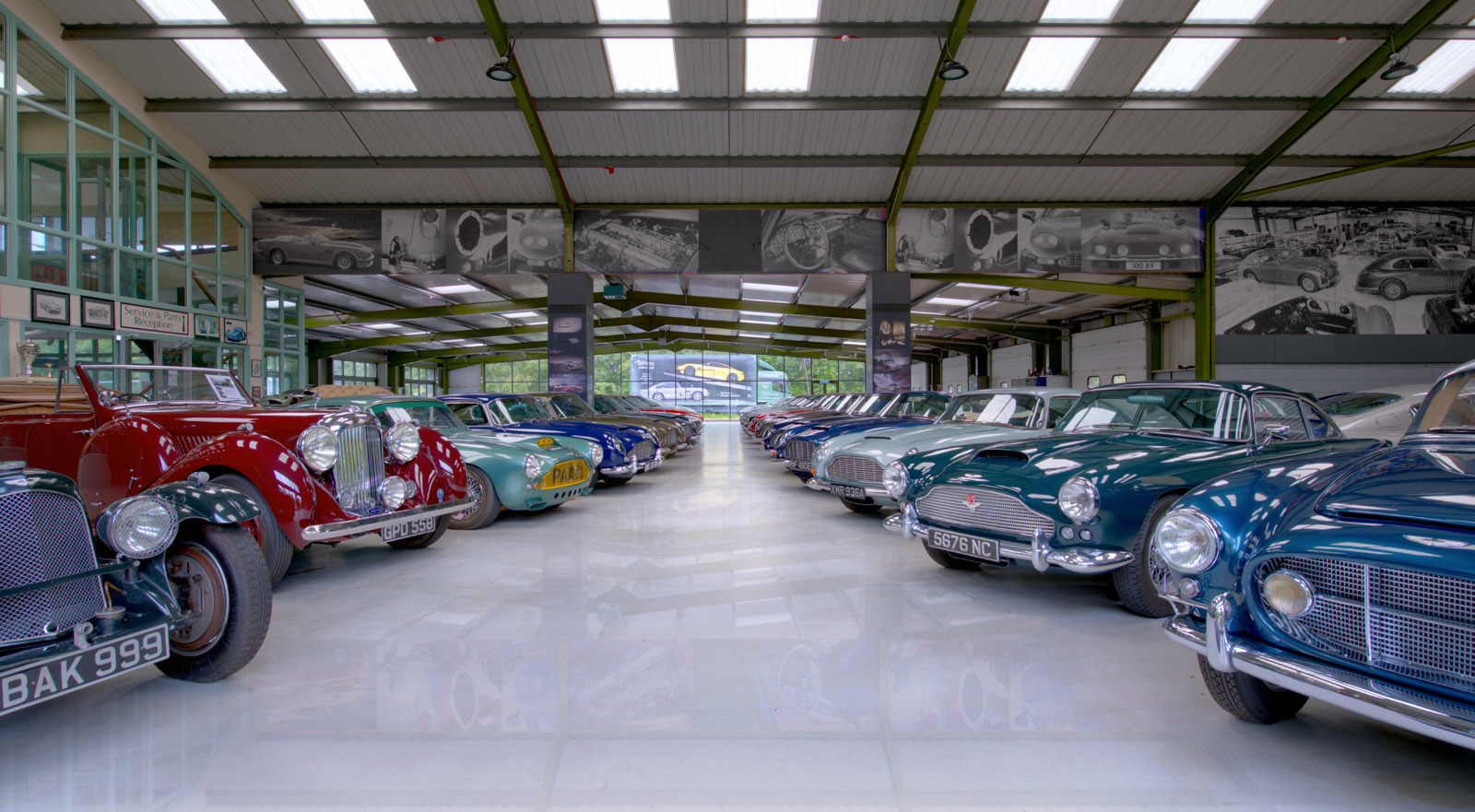 Classic Aston Martin Specialists
Established from humble beginnings over 35 years ago, owner Bob Fountain forged Aston Workshop out of his interest in restoring Aston Martin cars to the highest possible specifications.
Since then Aston Workshop has enjoyed sustained growth and has become internationally renowned for its award-winning engineering and restorations. Now with a team of over 30 specialist workshop staff, they can undertake some of the most well regarded and bespoke Aston engineering tasks globally available. The culmination of which has led us to create bespoke cars such as our authentic DB4 Zagato recreations.
With over 30 cars in the showroom at any one time, Aston Workshop has established itself as one of the biggest independent used Aston Martin dealers in the country. With over 400 years of collective knowledge in the business, we are an internationally prominent and independent Aston Martin specialist with many unique products for the enthusiast marketplace.
These include right and left-hand drive conversions, European and tropical air conditioning systems, 6-speed automatic gearbox conversions, and a comprehensive suite of warranty-backed engine upgrades, re-engineered parts, and enhancements - all developed in-house through decades of experience. A vast number of our products are only available from Aston Workshop. This combined with our depth of expertise in bodywork, paint, trim, and chassis work ensures we occupy a highly regarded position in the world of independent Aston Martin specialists. No task on your Aston Martin is too big or too small, and with so many years of experience at your fingertips, using Aston Workshop makes a smart choice. Our North East base makes us ideally placed to offer competitive prices.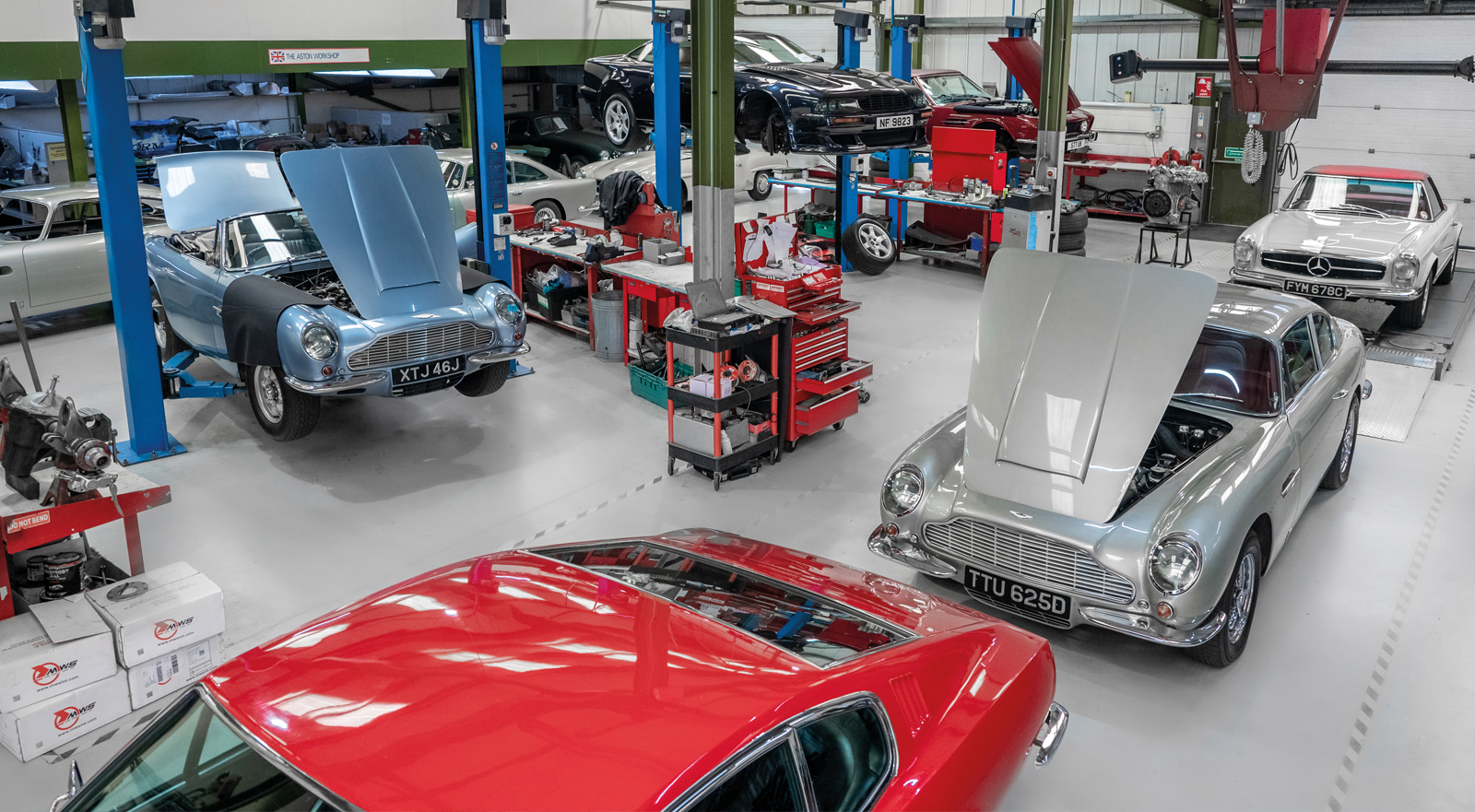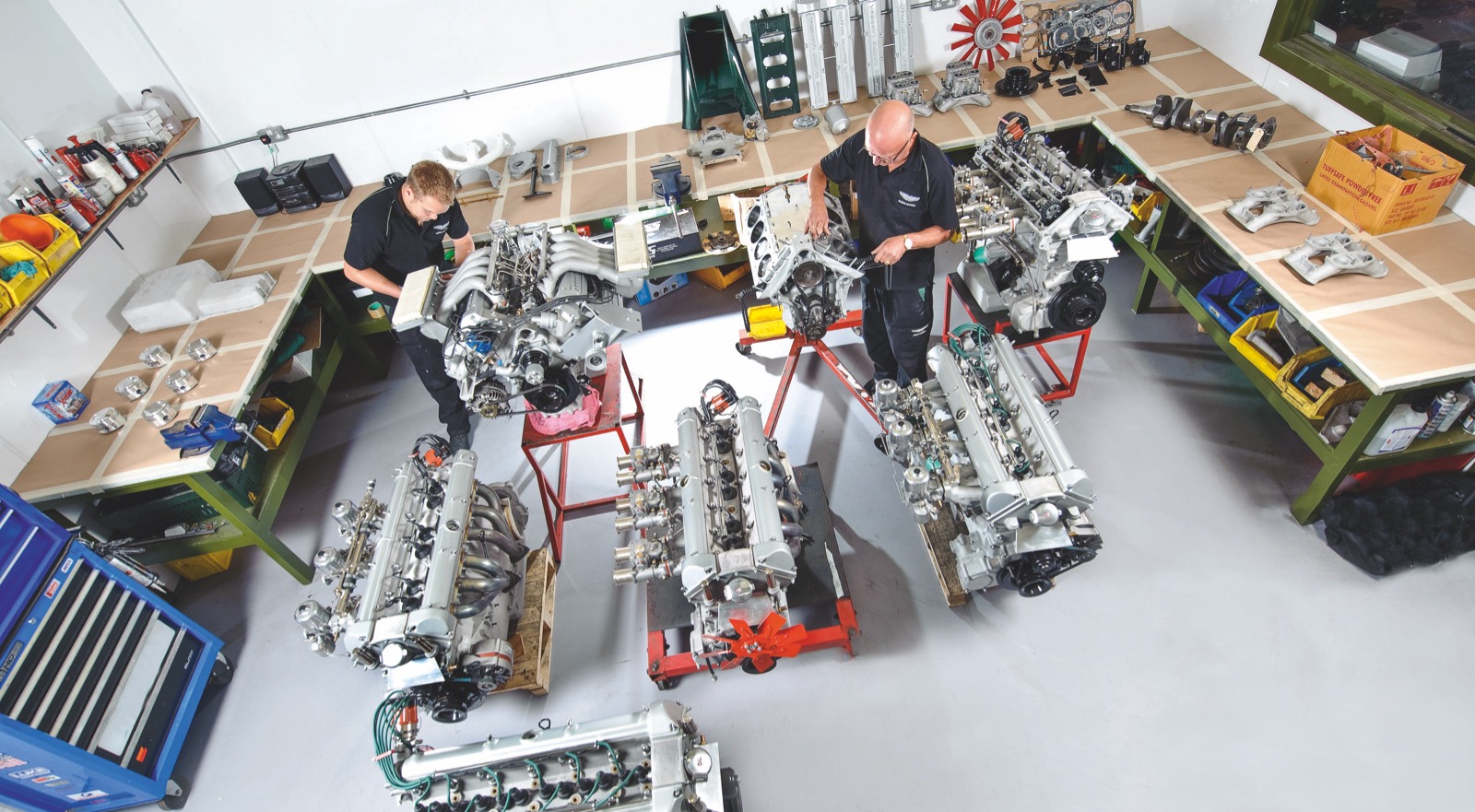 Located in the rolling hills of the County Durham countryside, our world-class restoration and servicing facility works constantly to develop new and innovative engineering solutions alongside our sales team, which operate from our 45,000 sq ft Aston Workshop complex. Tucked away in the countryside and hidden from view, yet providing one of the world's most comprehensive facilities for restoring some of David Brown's most beautiful creations, it really is a joy to visit. For those that want a closer look, workshop tours are available upon request.
Perhaps the most impressive aspect of any visit, however, is getting to know the people who work here. With a dedicated and friendly team of professionals who are passionate about every aspect of what they are doing, it is easy to see why the company has such an enviable reputation worldwide.
We pride ourselves on being able to meet just about any request you might have. If the necessary parts or methods don't already exist, we will either reverse-engineer obsolete parts or design and fabricate a solution in-house. We have a genuine 'can do' approach which has led to the development of a range of enhancements and upgrades for the classic car owner. These enhancements allow the client to fully enjoy classic car ownership while discretely 'modernising' the car to give it better performance, reliability, comfort and safety.
The team at Aston Workshop take great pride in keeping these British automotive gems alive, and through a combination of ingenuity, expertise, dedication and downright dogged determination, they succeed on every level.
A business whose reputation has grown by word of mouth, Aston Workshop has become synonymous with superb craftsmanship, together with the production of impeccably restored Aston Martin cars. Whether you are buying, selling, upgrading or restoring your beloved Aston Martin, there can surely be no better team to assist you in your goal. For more of an overview watch our video.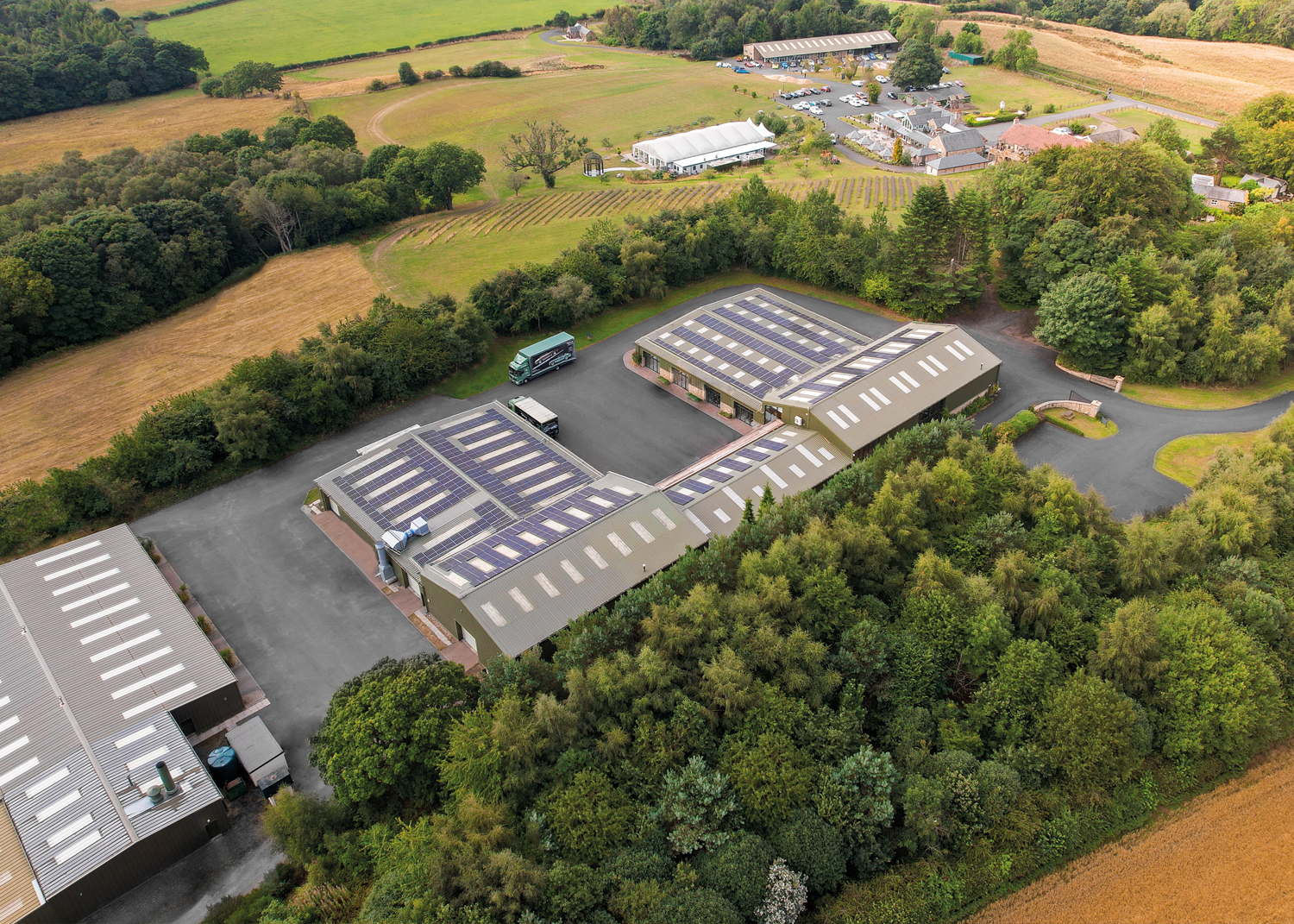 WATCH THE VIDEO
Vehicle Finance Status Disclosure for Aston Workshop Ltd
Frequently asked questions
Who are we?
Aston Workshop Limited, a dealership acting as a credit broker in arranging finance for vehicle transactions.
Our registered office address is: Gosling Hill, 1 Red Row, Beamish Burn, Beamish, Co Durham DH9 0RW England. Company registration no. 07098945
01207 233525
Are we authorised to arrange finance for you?
Yes, we are authorised and regulated for credit-broking activities by the Financial Conduct Authority ("FCA"). We are not a lender. Our FCA Firm Reference Number is FRN753736. For more information, please visit the FCA website at: https://register.fca.org.uk/ . Please note that business customers may not be protected under the Consumer Credit Act 1974 or FCA rules.
What can we do to help finance your vehicle?
We can introduce you (whether direct or through a specialist credit broker) to a number of finance companies ("funders") who may be able to finance your transaction, There are other funders to which we cannot introduce you which may also be able to offer you finance.
We will provide you with information and explanations about the finance products that may be available to you and, where we recommend a product to you, we will ensure that this is based on the information you give us about your needs and circumstances so that it is suitable for you. Finance is arranged subject to status and terms and conditions. We cannot guarantee that we will be able to secure finance for you.
Can we give you independent financial advice?
We are not independent financial advisers and so are unable to provide you with independent financial advice.
Do you have to pay for our service or do we receive any commission?
You don't have to pay us for our service. But a funder or broker we work with may pay us for introducing you to them. Different funders/brokers may pay us different amounts but it will typically be based on a fixed percentage of the amount borrowed. This percentage may vary according to different factors, for example: the amount of credit; the age or type of vehicle; the type of finance product; or the funder's assessment of the risk of lending. For your reassurance, we are not able to change the interest rate you pay in order to receive more commission from a particular broker or funder. Although rates and commissions may vary between our finance partners, our aim is always to secure finance from them which is appropriate to your circumstances and at the lowest interest rate available.
If we are successful in obtaining an offer of finance for you and you would like to know the amount (or likely amount) we would receive if you decided to go ahead with the agreement and how that amount has been calculated, please contact us using the details above
How will we use your information?
We will use your information to obtain quotes from funders and brokers to process finance applications through them and we and/or they may also conduct a search of your record held with one or more credit reference agencies.Credit checks may as a result appear on your credit file lodged by organisations with whom you have not dealt directly. The personal information collected will also be shared with fraud prevention agencies who will use it to prevent fraud and money laundering and to verify your identity. If fraud is detected you could be refused certain services, finance or employment.
Further details of how your information will be used by us, funders and these fraud prevention agencies, and your data rights can be found here http://www.aston.co.uk/privacy.html . A full data protection notice/ privacy policy will be provided to you before we submit any application for finance on your behalf.
We are registered as a data controller with the Information Commissioner's Office under registration number.
What can you do if you wish to complain about our services or contact us?
If you wish to make a complaint, please contact us:
by writing to us at Complaints, Aston Workshop, Red Row, Beamish DH9 0RW
by emailing [astonworkshop@aston.co.uk] ; or
by telephoning 01207 233525
If, after making a complaint to us you are still unhappy and feel the matter has not been resolved to your satisfaction, please contact the Financial Ombudsman Service ("FOS" - http://www.financial-ombudsman.org.uk ). Please note that FOS may not be able to deal with complaints from business customers.
http://www.aston.co.uk/privacy.html
If you require further information, please contact us by telephoning the above number(s) or emailing us at astonworkshop@aston.co.uk, addressing your correspondence to the Complaints Manager