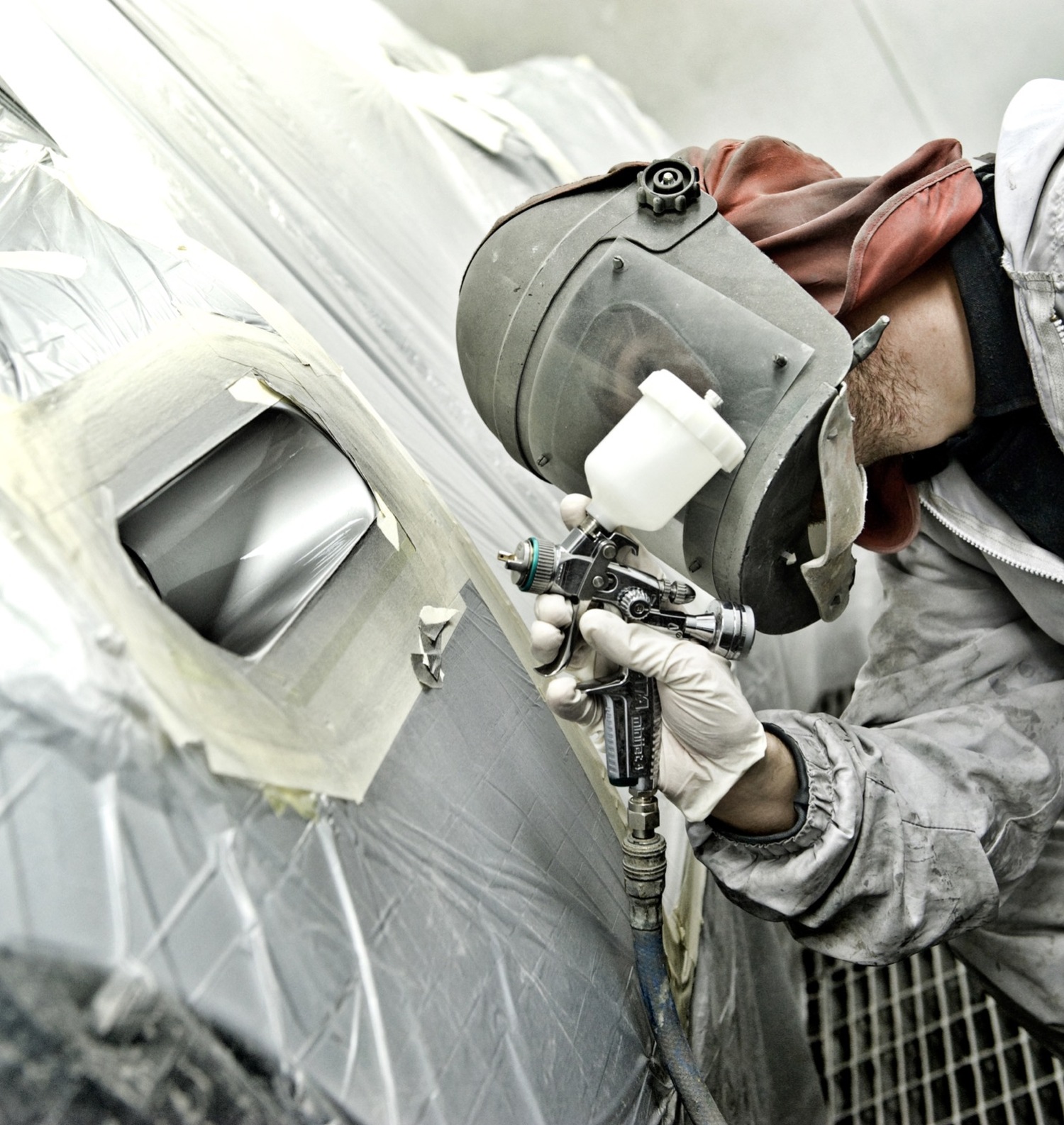 Category A' Crash Repair
The Aston Workshop have a fully state of the art purpose built Paint & Body Centre to complement and to add to the range of capabilities that the Aston Workshop can offer to our customers. With a Category A' crash repair status, Aston Workshop are able to carry out any level of repair on any Aston Martin model and other vehicles of similar quality. We have the ability to move from a minor stone chip to a full body preparation and paint with any process in between. We are able to work with any make or model in conjunction with our workshop facility. If you should find yourself in the unfortunate position of requiring a first class crash repair or if you simply want to restore your cars appearance to its former glory, we will be only too pleased to help. In fact, for any level of repair to any Aston Martin, please contact our workshop manager for friendly advice.
Situated adjacent to our main workshop, the capabilities we offer include a panel shop, with dedicated Category A quality booths for aluminium and steel fabrication and panel repairs and restoration. With these come a full set of jigs, welders and panel shaping tools and dedicated and skilled staff that have a wide range of capabilities, be they required for restoration work, crash repairs or the removal of minor or major corrosion. We are able to deal with all levels of major accident damage with our global jig re-alignment facility.
Complementing the panel shop we have invested in the latest paint booth and paint preparation facilities, we use a modern water based paint system in conjunction with our state of the art oven enabling us to prepare and paint cars to the highest standards. Our standards are uncompromising, using the latest paint technology in conjunction with the old fashioned methods of hand blocking and polishing to achieve a true mirror like finish. Achieving those standards routinely means of course that time and effort is also needed to ensure that the underlying panels are correctly shaped, so that we do not need to use copious quantities of filler we spend time to ensure that before we start the painting process the panels are truly flat and straight. It is this attention to detail that distinguishes the best hand finished cars from all others. The end result is a thing of beauty that will give pleasure every time you look at and admire your pride and joy.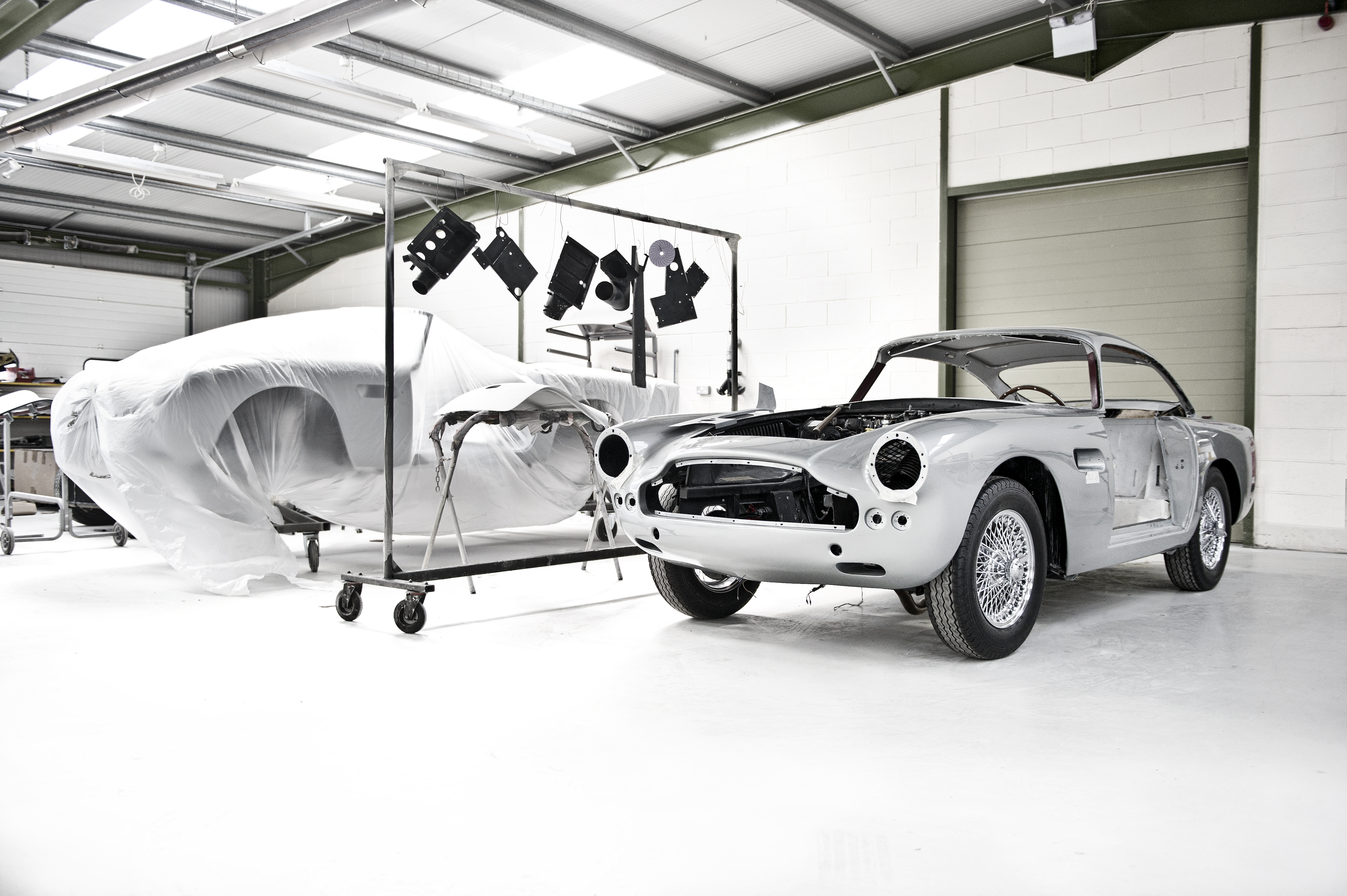 Colour Changes and Complete Resprays
Have you considered a colour change for your cherished Aston Martin or seen the very car you would like to buy, but it is the wrong colour? What makes this a genuinely practical option for any Aston Martin made up to and including the DB7, is that the colour matching needed does not require the dismantling of the engine bay and under wheel arches, as these were always prepared in Black. Consequently, the dismantling and stripping of a car to effect a colour change is relatively straightforward and involves primarily the external trim, glass and bumpers/fenders, the door jams, door surrounds, boot and bonnet apertures.
If your car has weathered gracefully maybe what it now needs is a full bare metal respray to bring it back to that new condition. These we often undertake, and in so doing, will often add thousands to the value of your car.
We can of course also respray any modern car, but because the engine bays and body shell are generally colour matched to the cars original colour, a colour change is significantly more involved and complicated and hence expensive to undertake. Nothing is impossible however.
Stone chip Rectification and "Smart Repairs"
Whether a classic or modern car, it is impossible to avoid the inevitable stone chip and those often infuriating dings from someone carelessly opening doors and brushing against it with the supermarket trolley. Minor dings can often be rectified without any need for refinishing the panel concerned and at a fraction of the cost that would otherwise be involved. There are a whole series of "Smart Repairs" that we can bring to bear to rectify such minor damage economically and quickly.
The key to all this is the ability to paint match, and for this we have the latest computer based technology, skill and experience, together with an enormous selection of paint codes for just about every standard colour that has ever been used. Even old and faded paint presents few significant colour-matching problems for us.
General Chassis Repairs
Whether a Virage/Coupe or DB4, all Aston Martins up to and including the DB7 came with a mild steel platform and all are subject to corrosion and will after time require attention. The key to replacing steel sections, be they sills, cross members, suspension mountings etc are retention of the correct alignment and ensuring that the underlying structure is correctly and fully repaired. The key elements in all of this are:-
Accurate jigging to eliminate any possible distortion and misalignment.
Using steel of the correct thickness and quality
High quality welding
Preformed panels and sections
We have many years of experience so that we know how best to go about such repairs quickly and economically to achieve a high quality repair. We are always pleased to offer advice on what may be required and to undertake any repairs that we then fully guarantee.
Under-sealing and Rust Protection
We offer a full anti corrosion treatment. This is achieved by ensuring that every panel we fit is primed and painted prior to fitting. The subsequent panels are then fully and carefully wax protected inside and under-sealed on the outside. Generally such treatment should ensure a decade or more of freedom from any possible corrosion.
Panel repairs and Accident Damage Rectification
We offer a full range of services to deal with any panel repairs and accident damage. We can often approach the insurer on your behalf and arrange where and when appropriate for the use of a loan car while your car is being repaired and for ensuring that the time needed for agreeing any claim can be minimised. Any repairs we undertake are guaranteed as fit for purpose and up to the original manufacturers standards and the quality of finish of the car prior to it being damaged.