1963 Aston Martin DB5 Jubilee Silver
ENQUIRE NOW
£499950
Use our bespoke finance calculator to discover how we could help you to get the car of your dreams.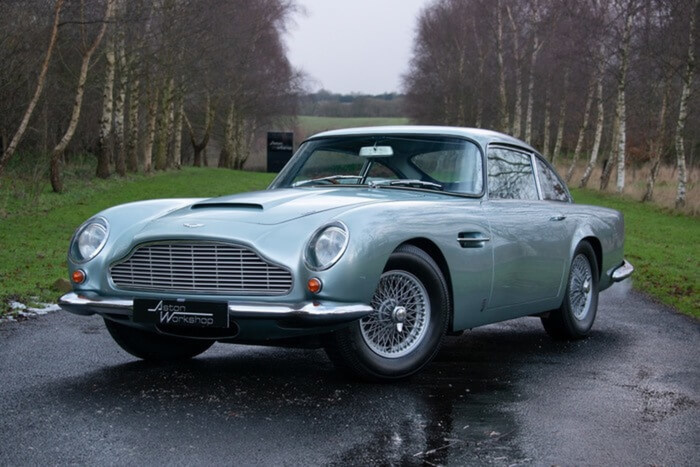 This 1963 Aston Martin DB5 showcases the true style and hand craftsmanship of a decade that produced so many iconic cars.
Born from the swinging sixties, this 1963 Aston Martin DB5 showcases the true style and hand craftsmanship of a decade that produced so many iconic cars.
This particular DB5 is finished in a Jubilee Silver exterior with a contrasting Black Leather interior, the stylish colour combination gives an already rare car a unique touch.
With only 47,534 miles on the clock, this RHD, manual classic, epitomises a vehicle that has lovingly cherished for over five decades.
The smooth delivery of power comes from the 4200cc engine coupled with the 5 speed ZF gearbox which will give the new owner a sense of reassurance when planting their foot on the accelerator pedal or shifting gears on an open country road.
History
This DB5 has only had four owners from new and the last owner carefully looked after it for 30 years while keeping a comprehensive history file.
The supplier dealer was Brooklands of Bond Street (the Aston Martin agent for London's West End at the time), with the first owner being the head of Manger & Henley Ltd. of Borough High Street, London. We note that the build sheet also details service work carried out between the car's delivery and March 1970, by which point ownership had passed to builder Jack Rhodes. Jack Rhodes was a successful builder with a liking for the 'Good Life'. However, the recession of the late-seventies hit the building industry hard; Jack's business took a downturn and many of his assets (including his treasured Aston) had to be sold.
In 1986 the car was bought by John Goldsmith of well-known Aston Martin specialists Goldsmith & Young who in turn sold it to the previous owner in 1991.
Available upgrades while eminently usable in her present state, this car can be readily modified and upgraded as may be desired. Changes from RHD to LHD, engine, and suspension upgrades are all possible and cost-effective. A full-colour change can be made if the new owner desires. We will be glad to quote an all-inclusive price for purchase and upgrade as may be requested by the prospective purchaser.
If you're interested please give us a call on +44 (0) 7827 353195 or email us at sales@aston.co.uk.
About Aston Workshop:

Aston Workshop is an independent Aston Martin specialist located on Red Row Estate, an idyllic 37 acre venue set in the North East countryside. Red Row is located in County Durham, only 2 miles away from Beamish Museum, one of the North's major tourist attractions. We offer a wide variety of contemporary Aston Martins for sale in our showroom including special editions, low mileage examples and high performance models. Typically we have around 80 cars on site at any given time. Additionally we have an unrivalled selection of valuable heritage models which are rare and often rebuilt to bespoke specifications with discrete modern enhancements. Typically stocking fully restored examples, older restorations, drivers, 100% electric zero emission EV conversions and even barn finds, our showroom is an unrivalled experience for the Aston Martin Enthusiast. We also build cars such as our DB4 GT Zagato recreations and our V8 Evolution 6.0.

Our sales showroom is supported by over 40 vastly experienced workshop staff working with a wide range of comprehensive in-house facilities including all aspects of Aston Martin diagnosis, repair, servicing and restoration to concours standards. Each member of our team works hard to ensure that we stay at the forefront of Aston engineering technology, Aston parts supply and full restorations including fixed price services where applicable.

Our experienced team are also pleased to help and advise if you are a collector or seeking to purchase a car specifically for investment purposes.



The benefits of buying and selling with us include:
Nationwide collection and delivery service on our own covered transporters
Cars which are prepared by technicians working exclusively on Aston Martins
Our own Aston Workshop Warranty
A comprehensive customer service which truly works for the duration of ownership
The confidence of dealing with a leading independent specialist established over 30 years