1967 Aston Martin DB6 Vantage MKI LHD
ENQUIRE NOW
£439,950
Use our bespoke finance calculator to discover how we could help you to get the car of your dreams.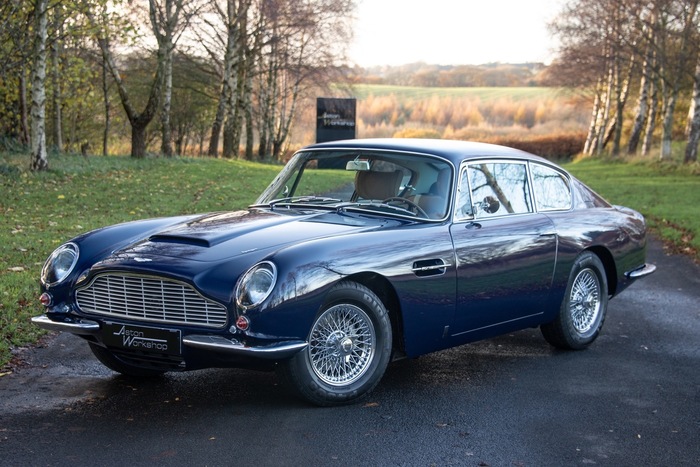 "With only 2210 miles on the clock"
We are excited to offer a 1967 Aston Martin DB6 Vantage MKI, presented in its original colours; a stunning Pacific Blue exterior colour and Tan Leather interior colour, it features a 4.2 Litre engine producing 280 BHP, a manual gearbox and matching numbers. It had a full restoration in 2008 which included a strip and condition assessment, a chassis reconstruction, body reconstruction, a comprehensive respray, engine strip and rebuild, chassis and body assembly, a brand new interior trim and finally, a test, defect rectification and detailing of the car. It was a true labour of love for the Aston Workshop team and now is in fantastic condition and ready to find a new home.
With only 2210 miles on the clock, this beauty was converted to LHD and is perfect for any Aston Martin enthusiast who's looking for a stunning classic car.
Upgrades fitted to the car:
Alarm system Sigma CAT 1 and integrated central locking
G Clip-on type door mirrors
Speakers Alpine 6x4
Becker Mexico Radio 7948 / GPS
Air conditioning
Becker iPod kit
Concealed Alpine disk CD changer
Monte Carlo Handling Kit
Le Mans Brake Booster Kit
Adjustable Telescopic Rear Shock Absorber Kit
Uprated Aluminium Fuel Tank
Uprated Aluminium Radiator
Uprated Aluminium Oil Cooler
Daytona Window Lift Kit
DB6 Rear Seat Safety Belt Kit
Over Carpets in Wilton Blue
Chrome Wire Wheels & Pirelli P400 Tyres
Limited Slip Differential
Electric Jack
Retractable Front Seat Belts
Steering - electric power steering
For more information about the restoration or specifications of this car please visit our bespoke Aston Martin DB6 MKI Vantage Restoration Log PDF.
If you're interested, please give us a call or an email to discuss the car in more detail. Our contact details are +44 (0) 1207 233 525 or astonworkshop@aston.co.uk.