1967 Aston Martin DB6 Project
£219950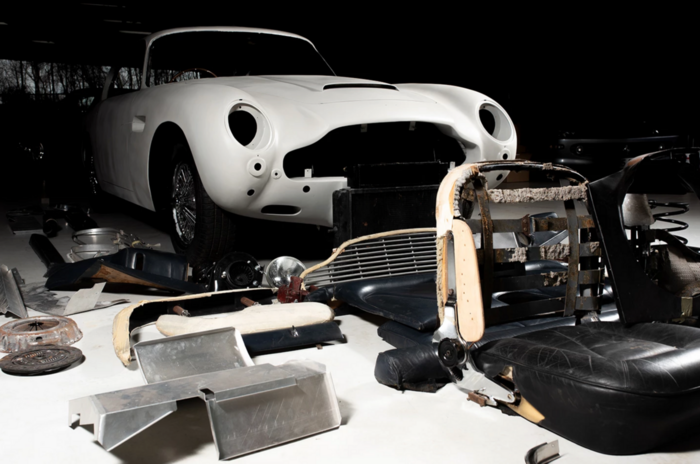 This Car
A rare and intriguing opportunity to purchase an unfinished DB6 project that we have just collected from a customer to sell on their behalf. The restoration work to date has been completed by other marque specialists, ready for completion by its next custodian. This presents the opportunity for the car to be completed and built to your personal specification in a reduced timescale.
Originally wearing a specification of Goodwood Green exterior over a Natural leather interior, this DB6 left the factory in January 1967 to be distributed by Aston Martin Lagonda Ltd. themselves. Not much is known about the cars history from that point until now apart from that it belonged to Victor Lownes, European VP of Playboy during the 60s and 70s, as well as Hugh Hefner himself.
The car is now prepared to be rebuilt by its next owner and is currently offered for sale by Aston Workshop on behalf of its current owner. The chassis has been extensively restored and powder coated ready for application of stone chip protection. The vehicle comes with a new aluminium body coated in epoxy primer. While not a complete car, most of the main components needed for the rebuild is there and the car in a rolling chassis state with front and rear suspension fitted.
The engine is currently away to be rebuilt by a marque specialist, while the car is also supplied with a Tremec 5 speed manual transmission. Ready to be built into the dream DB6 of it's next owner, this car represents a fantastic opportunity to own the final version of the famous Touring Superleggera shape that has defined Aston Martin design ever since.
Our helpful sales team are happy to discuss the car in further detail; please call +44 (0) 1207 268 932 or email sales@aston.co.uk.
About the Aston Martin DB6 Mk1
Representing the final evolution of the design that would define Aston Martin going forward, the DB6 combined the film-star looks of the DB5 with a more usable and comfortable chassis. Longer, taller and with a more upright windscreen, the DB6 could now comfortably fit four adults while a new rear end treatment with an upswept spoiler improved high speed handling. Modern refinements such as air conditioning and power steering became available which contributed to the success of the model; more than 1300 Mk1 DB6s were built, more than the DB4 or DB5 had managed before it.
About Aston Workshop:
Aston Workshop is an independent Aston Martin specialist located on Red Row Estate, an idyllic 37 acre venue set in the North East countryside. Red Row is located in County Durham, only 2 miles away from Beamish Museum, one of the North's major tourist attractions. We offer a wide variety of contemporary Aston Martins for sale in our showroom including special editions, low mileage examples and high-performance models. Typically we have around 80 cars on-site at any given time. Additionally, we have an unrivalled selection of valuable heritage models which are rare and often rebuilt to bespoke specifications with discrete modern enhancements. Typically stocking fully restored examples, older restorations, drivers, 100% electric zero-emission EV conversions and even barn finds, our showroom is an unrivalled experience for the Aston Martin Enthusiast. We also build cars such as our DB4 GT Zagato recreations and our V8 Evolution 6.0.
Our sales showroom is supported by over 40 vastly experienced workshop staff working with a wide range of comprehensive in-house facilities including all aspects of Aston Martin diagnosis, repair, servicing and restoration to concours standards. Each member of our team works hard to ensure that we stay at the forefront of Aston engineering technology, Aston parts supply and full restorations including fixed-price services where applicable.
Our experienced team are also pleased to help and advise if you are a collector or seeking to purchase a car specifically for investment purposes.
The benefits of buying and selling with us include:
Nationwide collection and delivery service on our own covered transporters
Cars which are prepared by technicians working exclusively on Aston Martins
Our own Aston Workshop Warranty
A comprehensive customer service that truly works for the duration of ownership
The confidence of dealing with a leading independent specialist established over 30 years