2003 Aston Martin DB7 Vantage
ENQUIRE NOW
£39,950
Use our bespoke finance calculator to discover how we could help you to get the car of your dreams.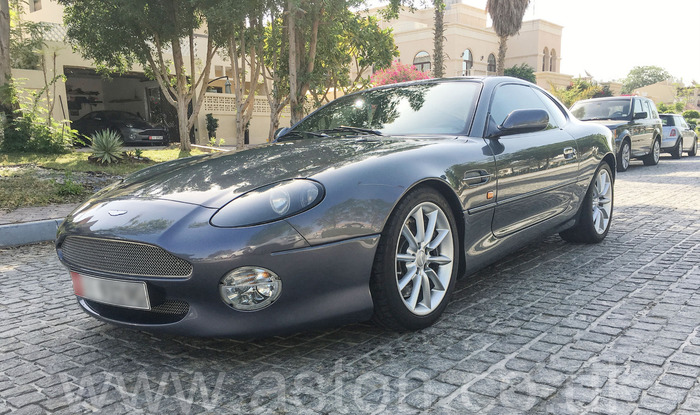 A unique opportunity to purchase what must be one of the best kept Aston Martin DB7 ever. This car has been maintained regardless of cost and in the most fastidious fashion by it's main custodian.

This low mileage LHD Vantage has had only 2 owners (2nd from 2004, purchased at 2880 Kms) and comes complete with a FAMSH including invoices of all work undertaken since new. It even has a record of daily use (miles, locations, weather,& service) as part of the history, both handwritten & in pdf form!

Well known to those in the AMOC of the region it has been regularly "detailed & shown" winning awards on occasion.

The owner is well known to us here at Aston Workshop and we can confidently state that there is unlikey to be a finer example anywhere. If you are looking for a LHD DB7 Vantage, you simply won't find better,

DB7s in this condition are almost impossible to find and we anticipate a great deal of interest.

Presently situated in the UAE, viewing is by appointment only.
For further information, please contact a member of our sales team: +44 (01207) 233 525
------------------------------------
At the heart of every Aston Martin Vantage is an engine developed with ultimate performance in mind – and the DB7 Vantage is no exception. Unlike previous Vantages with tuned versions of standard production engines, DB7 Vantage is powered by an all new engine which, for the first time in Aston Martin's history, has twelve cylinders.

Developing 309 kW (420 bhp) at 6000 rpm, the new engine powers DB7 Vantage to a top speed in excess of 290 km/h (180 mph)*. 0-48 km/h (30 mph) takes only 2.1 seconds, with 100 km/h (62mph) coming up in just 5.0 seconds.

The benchmark 0-160 km/h (100 mph) sprint can be achieved in a stunning 11.4 seconds.
In addition to producing supreme levels of outright power, the new 6.0 litre V12's flat torque curve ensures truly impressive 'real world' performance where 85% of maximum torque is delivered at only 1500 rpm.

This exciting new engine is the direct result of advanced computer aided design and engineering techniques coupled with the extensive use of high grade aluminum alloys to optimise strength, rigidity, durability and refinement within an extremely lightweight, compact and efficient design.
Race derived engine features such as oil jet cooled pistons and tubular equal length stainless steel exhaust manifolds combine with advanced emission technologies such as ionisation misfire detection, advanced
metallic substrate catalysts and a specially developed dual processor EEC V electronic engine management
system.

Designed for all markets, The DB7 Vantage exceeds all worldwide emission standards.
*DB7 Vantage Coupe

Massive ventilated cross-drilled discs with aluminium four piston calipers combine with four channel
Electronic ABS to provide immense stopping power.
A limited slip differential ensures optimum traction.

Lightweight alloy road wheels improve brake cooling whilst wide, low profile tyres (245/40 ZR18 front,
265/35 ZR18 rear) offer maximum grip without compromise to ride quality.

The Triple Feature Touchtronic Transmission offers a choice of either...
Standard mode, which provides more relaxed Auto Seamless shifting utilising the torque of the engine to deliver
smooth, refined Performance, or...
Sport Automatic Transmission, available providing fully automatic gear changes, where changes may be made
at the touch of a button, or...
Sport Mode, simply move the gear lever to the left of the selector gate, for gear changes which are still made
automatically, but at higher engine speeds providing increased performance and response for ultimate performance available by any forward movement of the gear lever changes up and any rearward movement changes down – it's as simple as that.

The advanced electronics automatically prevent any likelihood of a missed gear or over revving of the engine whichever mode the system is in.
Superb Connolly leather seats provide both driver and passenger with essential support when driving at
speed, but without compromise to the high levels of comfort and luxury synonymous with the name
Aston Martin – essential ingredients for effortless long distance journeys.