1999 Aston Martin DB7 Vantage
£29950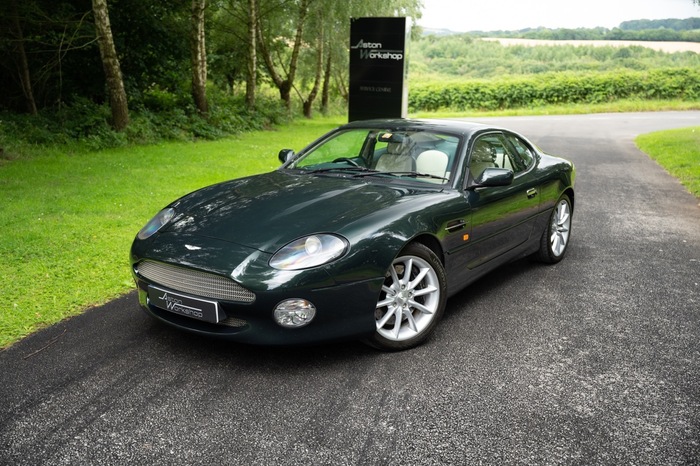 Classic Specification on this Ground Breaking V12 Aston Martin
The introduction of the DB7 Vantage in 1999 recorded a number of 'firsts' for Aston Martin. For the first time a Vantage variant was getting a whole new engine of it's own, rather than just an uprated version of the standard engine such as the case with DB4/5/6 etc, and what a special engine it was. The V12 fitted to the DB7 Vantage was Aston's first 12-cylinder engine, developed in conjunction with the Ford Research and Vehicle Technology Group and Cosworth. With a 5.9L capacity and a power output of 420bhp, the V12 propelled the automatic-transmission DB7 Vantage to 60mph in 5.1 seconds on the way to a limited top speed of 165mph.
This car is one of the first DB7 Vantages produced, finished in a traditional specification of Pentland Green over a Forest Green and Parchment Leather interior. DB7 Vantages are well optioned as standard, with 18-inch 10-spoke alloy wheels and uprated suspension/braking componentry to manage the increased power output. This car is also optioned with the rare burr elm trim finish and mesh front and side grilles.
Having covered 66,557 miles documented by a full service history, this early DB7 Vantage is now ready for it's next owner. The car will be supplied freshly serviced with a 6 month warranty and 12 months MoT. Our helpful sales team are happy to discuss the car in further detail; please call +44 (0) 1207 268 932 / +44 (0) 7827353195 or email sales@aston.co.uk.
About Aston Workshop:
Aston Workshop is an independent Aston Martin specialist located on Red Row Estate, an idyllic 37 acre venue set in the North East countryside. Red Row is located in County Durham, only 2 miles away from Beamish Museum, one of the North's major tourist attractions. We offer a wide variety of contemporary Aston Martins for sale in our showroom including special editions, low mileage examples and high-performance models. Typically we have around 80 cars on-site at any given time. Additionally, we have an unrivalled selection of valuable heritage models which are rare and often rebuilt to bespoke specifications with discrete modern enhancements. Typically stocking fully restored examples, older restorations, drivers, 100% electric zero-emission EV conversions and even barn finds, our showroom is an unrivalled experience for the Aston Martin Enthusiast. We also build cars such as our DB4 GT Zagato recreations and our V8 Evolution 6.0.
Our sales showroom is supported by over 40 vastly experienced workshop staff working with a wide range of comprehensive in-house facilities including all aspects of Aston Martin diagnosis, repair, servicing and restoration to concours standards. Each member of our team works hard to ensure that we stay at the forefront of Aston engineering technology, Aston parts supply and full restorations including fixed-price services where applicable.
Our experienced team are also pleased to help and advise if you are a collector or seeking to purchase a car specifically for investment purposes.
The benefits of buying and selling with us include:
Nationwide collection and delivery service on our own covered transporters
Cars which are prepared by technicians working exclusively on Aston Martins
Our own Aston Workshop Warranty
A comprehensive customer service that truly works for the duration of ownership
The confidence of dealing with a leading independent specialist established over 30 years