1937 Aston Martin 15/98 DHC
£179950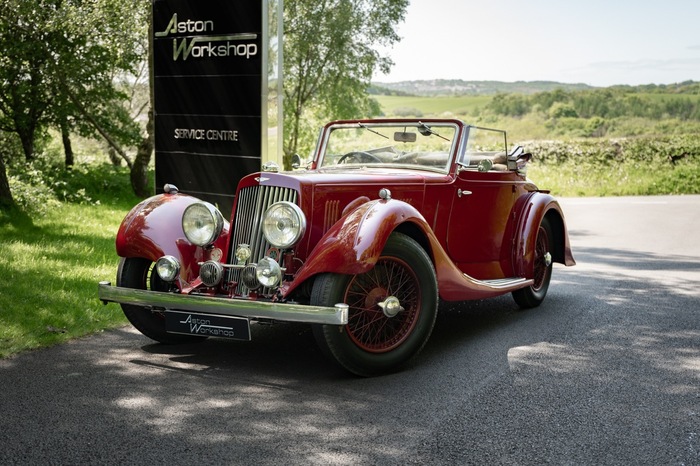 One of only 25 15/98 Drop Head Coupes
The 15/98
Following on from the popular and successful 2 Litre Speed model of the mid-1930s, the 15/98 was designed for more relaxed touring driving while holding enough performance in reserve to reach a maximum speed of 85mph. Performance like that was exceptional for a family car at the time, and was celebrated in its model name (RAC power rating of 15, 98 actual horsepower). With coachbuilding by Abbott of Farnham the 15/98 was one of the most popular pre-war Astons, with 125 cars built between 1936 and 1940. Only 25 were in the Drop Head Coupe body style as seen here, all fitted with the Claude Hill designed 2 litre engine delivering power to the rear wheels through a Moss four-speed gearbox, and it's thought only 6 remain on the road.
Aston Martin themselves were clear to distance this new grand touring model from the racing inspired cars they had built their reputation on. The original brochure for the 15/98 highlights the shift from "a racing chassis equipped with touring bodywork… that Aston Martin designers have in the past specialised" to a car featuring "space and comfort, smoothness, the durability and performance of the racing car… modified to afford the handling and general feel of the normal town or business motor carriage". The Drop Head Coupe was designed to be slightly sportier body style of the range, with two standard front seats and a third 'dickey' seat under a hatch built into the rear bodywork.
This Car
Bought in December 1937 by My J. G. Henderson, a close friend of Aston Martin owner Gordon Sutherland, the car saw regular use up until the start of the Second World War. The car was laid up in Scotland throughout the war before returning to London where it was used by Mr Henderson and his family for the following 20 years; during this time it was repainted in Green by Friar Motors, a division of the cars original builders E. D. Abbott, to match another Aston Martin in the family's collection.
After the passing of Mr Henderson the car was loaned to Doune Motor Museum in West Perthshire, Scotland on condition that the car would be displayed to the public. After the closure of the museum the car was returned to Mr Henderson's family, who entrusted it to pre-war Aston Martin specialists Ecurie Bertelli for a sympathetic restoration. The engine was rebuilt, gearbox and suspension componentry refurbished and the electrics, brakes and fuel systems overhauled.
The work done by Ecurie Bertelli prepared the 15/98 for the road again, and for the next 12 years the car was used regularly. In 2012 Royal Kustoms of Poole, Dorset were commissioned to carry out restoration of the bodywork and interior; the Abbott body was soda blasted and repainted in its original maroon while a new Maroon leather interior was fitted. Since then the car has seen some light use by the original owners family, before being sold recently. The car comes with an extensive history file detailing it's 85 year life including MOT certificates, restoration logs and original brochure. Having covered 44,692 miles this car represents an genuine and honest example of one of the most important pre-war Aston Martins, and is for sale at Aston Workshop for £219,950
Our helpful sales team are happy to discuss the car in further detail; please call +44 (0) 1207 268 932 or email sales@aston.co.uk.
About Aston Workshop:
Aston Workshop is an independent Aston Martin specialist located on Red Row Estate, an idyllic 37 acre venue set in the North East countryside. Red Row is located in County Durham, only 2 miles away from Beamish Museum, one of the North's major tourist attractions. We offer a wide variety of contemporary Aston Martins for sale in our showroom including special editions, low mileage examples and high-performance models. Typically we have around 80 cars on-site at any given time. Additionally, we have an unrivalled selection of valuable heritage models which are rare and often rebuilt to bespoke specifications with discrete modern enhancements. Typically stocking fully restored examples, older restorations, drivers, 100% electric zero-emission EV conversions and even barn finds, our showroom is an unrivalled experience for the Aston Martin Enthusiast. We also build cars such as our DB4 GT Zagato recreations and our V8 Evolution 6.0.
Our sales showroom is supported by over 40 vastly experienced workshop staff working with a wide range of comprehensive in-house facilities including all aspects of Aston Martin diagnosis, repair, servicing and restoration to concours standards. Each member of our team works hard to ensure that we stay at the forefront of Aston engineering technology, Aston parts supply and full restorations including fixed-price services where applicable.
Our experienced team are also pleased to help and advise if you are a collector or seeking to purchase a car specifically for investment purposes.
The benefits of buying and selling with us include:
Nationwide collection and delivery service on our own covered transporters
Cars which are prepared by technicians working exclusively on Aston Martins
Our own Aston Workshop Warranty
A comprehensive customer service that truly works for the duration of ownership
The confidence of dealing with a leading independent specialist established over 30 years