Aston Martin V8 Vantage V550 (V600 Works Upgrade)
ENQUIRE NOW
£199,950
Use our bespoke finance calculator to discover how we could help you to get the car of your dreams.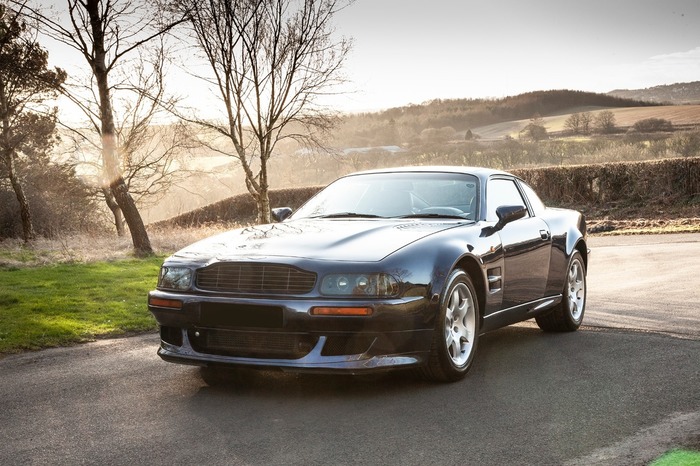 We are privileged to offer for sale this absolutely stunning, very rare, low mileage, Aston Martin V8 Vantage V550 with unmistakably the most aggressive ethos Aston Martin ever hand built with forced induction from twin superchargers. This model was considered completely outlandish for its time and is still to this present day. Known as the very final swan song of the Tadek Marek V8 is the slightly later and even more desirable V600 Vantage
This V550 has benefited from a full model upgrade and is now presented in V600 Vantage specification. With all conversion work carried out by the Aston Martin works factory themselves, rest assured the conversion is of great quality and the finished article is as close to original as possible. Key features of the conversion include the engine power upgrade, brake upgrade package, suspension upgrade package and complete dashboard instrument replacement to V600 specification. In addition cruise control was also installed. Also worth noting the 6 speed short shift manual transmission factory fitted is a complete pleasure to drive. This particular example now epitomises the Aston Martin ethos of Power, Beauty & Soul.
Presented in Rolls Royce Blue and complimented by the Connaught Grey Hide piped in Blue. This iconic Aston is one of only 150 such Vantages. Having covered only 44,480 miles since new (fully authenticated see below) it's in superb condition with all work undertaken by highly acclaimed specialists. Accompanying the vehicle is a complete sevice history,…..
Date Service Odometer AM Dealer Stamp 19/07/1996 1,500
Service 985 JCT 600 24/04/1997 6,000
Service 1,798 JCT 600 04/11/1997 12,000
Service 3,871 JCT 600 01/09/1999 18,000
Service 4,760 JCT 600 15/03/2000 24,000
Service 7,166 JCT 600 09/01/2001 30,000
Service 11,833 Lancaster Reading 24/03/2005 36,000
Service 16,133 HWM Walton-on-Thames 30/06/2006 42,000
Service 17,642 HWM Walton-on-Thames 23/06/2008 48,000
Service 19,876 HWM Walton-on-Thames 02/07/2012 54,000
Service 21,546 HWM Walton-on-Thames, 07/05/15 60,000
Service 29364 Aston Martin Works, 10/10/16 72,000
Service 35,762 Aston Martin Works, 11/10/17 78,000
Service 41,891 Aston Martin Works, which brings it up to the current mileage of 44,480.
These are the last of the traditional, hand formed Aston Martin cars. They are full of delightful small details reflecting the bespoke craftsmanship of their manufacture. The build quality and attention to detail are a constant source of delight. When this is also complimented by the extraordinary performance that the Vantage 550/600 can give, it makes for a truly memorable motoring experience that can be enjoyed by four adults in comfort. After almost 20 years in production, Aston's V8 had been replaced for the 1990s by the Virage then followed by the Coupe which was a consummate fast tourer. This left room at the top of the range for an out-and-out sports tourer, hence the Vantage. Although the two models appear superficially similar, beneath the skin the Vantage chassis boasts the kind of extensive re-engineering required to cope with the massive increase in performance. The latter comes courtesy of a blown version of Aston's 5,340cc V8 with twin mechanically driven Eaton superchargers being preferred to turbo-charging on the grounds of superior throttle response. Quite apart from its stupendous maximum output, remarkable enough in itself, the engine is monstrously torquey, producing 550lb/ft at 4,000rpm. On the open road, performance is just as expected from a beautifully well-maintained Aston Martin V8. We would strongly recommend any interested parties to pay us a visit to both view and test drive this Aston please contact a member of our sales team on 01207233525