2008 Aston Martin V8 Vantage Prodrive 425BHP
SOLD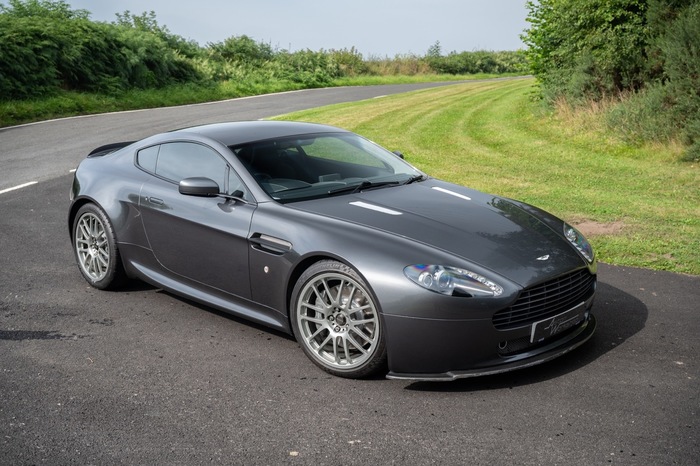 Very Rare Prodrive Edition
Aston Workshop are proud to offer this rare Aston Martin V8 modern classic from 2008, the 4.3 Vantage engineered by Prodrive, finished in Meteorite Silver Metallic with Obsidian Black leather and Silver stitching, covered only 36,226 miles with excellent service history, factory option included are, High Spec Alarm, Bluetooth, Grey Brake Calipers, Cruise Control, Gun Metal Facia, HID Headlamps, Aston Martin Premium Audio, Garage Door Opener, Memory Seats & Mirrors, Powerful Mirrors, Satellite Navigation, Heated Front Seats. Aston Workshop have just fitted Apple Car with HD screen to this gorgeous motor car which enhances an already great specification vehicle.
At the time Prodrive ran the Aston Martin Racing team in partnership with Aston Martin. It used its experience of designing and developing DB9 and V8 Vantage-based race and rally cars to help create a range of performance enhancements for the road car.
This fine example of the Prodrive vantage in stock at Aston Workshop features the full compliment of enhancements including:
High performance engine derivative (45bhp over standard)
Bespoke lightweight forged wheels
Driver adjustable suspension
Bespoke exhaust system
Carbon fibre aero spoilers
Prodrive rear badging
Only a handful of cars exist with full compliment of Prodrive upgrades (rumoured online to be less than 5 cars)
This car features the most powerful iteration of the 4.3L V8 engine ever offered in the Vantage, adding a claimed 7mph to the standard car's top speed. Featuring a remapped ECU and a rev limit increased by 300 rpm sees the engine increase in power from 283 kW (380 bhp) to 317 kW (425 bhp), as well as usefully increasing peak torque from 410 Nm (302 lbft) to 440 Nm (325 lbft). The 4.3-litre V8 engine still likes to be revved to deliver its best and is genuinely thrilling to extend towards 8000rpm. The recalibrated ECU was specifically mapped for UK fuel, and in particular, 99 Octane. As well as increasing peak power and torque the Prodrive engineers made the engine more responsive throughout the rev range, and from a driving perspective this shows itself in two areas. First, acceleration in 6th from 70 - 100mph is considerably improved and a noticeably sharper power delivery right up to the (revised 'hard') rev limiter. Acceleration to 60mph (97kph) is improved to 4.3sec (standard V8 4.9sec), while 100mph comes up in 12.0sec, a reduction of 2.0sec over the regular production car. (Engine upgrade originally at a cost of £6259 inc VAT)
The modified exhaust system features a high flow, low back pressure sports catalyst and a driver-controlled switch to manually override the V8 Vantage's exhaust valve. Quiet mode (valve is permanently closed) auto (as on the standard car, open at 4000rpm) and Sport mode (valve is permanently open)
The suspension upgrade brings firmer Eibach springs and switchable two-stage Bilstein dampers which offer huge dynamic advantages over the original setup on the 4.3. The driver-adjustable suspension operates using a switch in the cockpit allowing the driver to choose between normal and sports mode. (Suspension upgrade originally at a cost of £5581 inc VAT)
Prodrive also carried through the unique design of the wheels used on the Aston Martin DBR9 GT1 racing car to create special lightweight 14 spoke 19" forged wheels made by Prodrive Japan for this V8 Vantage. These almost 9 kilos lighter than the standard wheels and increase in width by half an inch at the rear up to 10in. (upgrade originally at a cost of £3995 inc VAT)
The V8 Vantage's aerodynamics were analysed in the windtunnel to develop an aero package to reduce high speed lift. The result was a discreet Prodrive designed and manufactured carbon composite front lip and trunk spoiler, which are in keeping with the Vantage's classic styling. Together, these reduce lift by 45 per cent, improving both high speed stability and grip. (Upgrade originally at a cost of £2937 inc VAT)
Originally nearly £19,000 was required for a full Prodrive performance package taking the original RRP of the car to over £100,000.

Included in the sale is a fresh service along with a full MOT, We anticipate a lot of interest in this much sought after rare model. For more information or to arrange a viewing, don't hesitate to get in touch with a member of our sales team on 01207 233525

About Aston Workshop:
Aston Workshop is an independent Aston Martin specialist located on Red Row Estate, an idyllic 37 acre venue set in the North East countryside. Red Row is located in County Durham, only 2 miles away from Beamish Museum, one of the North's major tourist attractions. We offer a wide variety of contemporary Aston Martins for sale in our showroom including special editions, low mileage examples and high performance models. Typically we have around 80 cars on site at any given time. Additionally we have an unrivalled selection of valuable heritage models which are rare and often rebuilt to bespoke specifications with discrete modern enhancements. Typically stocking fully restored examples, older restorations, drivers, 100% electric zero emission EV conversions and even barn finds, our showroom is an unrivalled experience for the Aston Martin Enthusiast. We also build cars such as our DB4 GT Zagato recreations and our V8 Evolution 6.0.
Our sales showroom is supported by over 40 vastly experienced workshop staff working with a wide range of comprehensive in-house facilities including all aspects of Aston Martin diagnosis, repair, servicing and restoration to concours standards. Each member of our team works hard to ensure that we stay at the forefront of Aston engineering technology, Aston parts supply and full restorations including fixed price services where applicable.
Our experienced team are also pleased to help and advise if you are a collector or seeking to purchase a car specifically for investment purposes.
The benefits of buying and selling with us include:
Nationwide collection and delivery service on our own covered transporters
Cars which are prepared by technicians working exclusively on Aston Martins
Our own Aston Workshop Warranty
A comprehensive customer service which truly works for the duration of ownership
The confidence of dealing with a leading independent specialist established over 30 years