1976 Aston Martin V8 Project Car
ENQUIRE NOW
£89,950
Use our bespoke finance calculator to discover how we could help you to get the car of your dreams.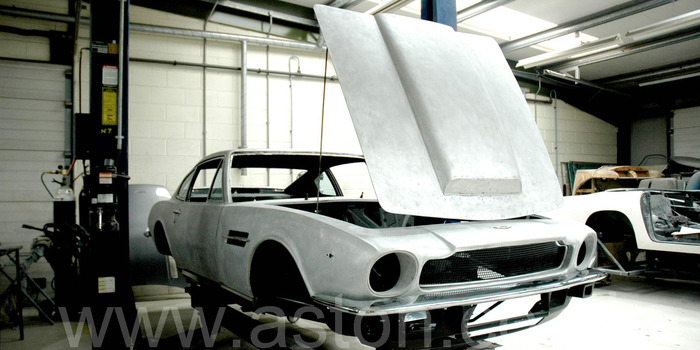 Originally supplied in left hand drive, automatic specification to Japan, this V8 is in the latter stages of a world renowned Aston Workshop restoration, with chassis and bodywork already complete.
All outer aluminium body panels were removed and the chassis was then media blasted and inspected for corrosion. Thanks to the Japanese climate, much of the original chassis was able to be retained.
Certain areas that usually suffer from tin worm on these V8s were affected and have been replaced during restoration. These included the boot floor, driver and passenger floor pans, sills, outrigger and jacking points. The front engine compartment also befits from new inner wings and bulkhead panels as required.
The restored chassis has been coated in anti-corrosion primer and a satin black powder coating finish.
After the chassis was powder coated, the aluminium body was soda blasted and treated to a coat of anti-corrosion paint on the inside surface, then refitted to the fresh chassis.
All body panels and fittings have been prefitted and panel gaps set, therefore the V8 is now ready for the paint stage, the final colour and specification to be chosen by the new owner.
One of the most recognisable Aston Martins of all time, The replacement for the DBS V8, the "AM V8" was a tremendous success and still retains a 'presence' that most of today's supercars fail to match.
This is your opportunity to create the car of your dreams, with more than a little help from Aston Workshop of course!
It can now be be purchased "as is" with final specification to be agreed with the new owner.