1959 Austin Healey Sprite MKI
ENQUIRE NOW
£13,491
Use our bespoke finance calculator to discover how we could help you to get the car of your dreams.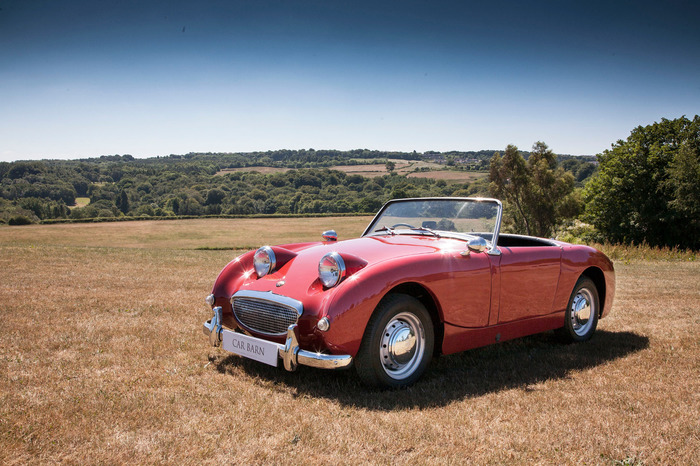 The Austin Healey Sprite MKI was designed by Healey Motor Company within the bounds of their partnership with BMC, the idea being to use as many parts from the corporate parts bin as possible. Most parts came from the A35, front suspension, engine, gearbox and back axle, with the steering rack from the Morris Minor and other off the shelf parts being Smiths instruments and Lucas electrical components. The use of these 'off the shelf' parts helped keep the development costs to a minimum, thereby satisfying the requirement that the car should be cheap to produce. When first launched on the 29th May 1958 the costs was £660.00 including tax and in all a total of 49987 were built between 1958 and 1961.
This Sprite was built on the 18th March 1959; the colour was Nevada Beige with Cherry Red interior, engine number 9CU-H/13087 with heater, toughened glass windscreen and rev counter as factory fitted equipment. It was dispatched to Charles Clarke Limited, Shrewsbury on the 3rd April 1959, and first registered on the 13th May 1959. The original registration number is unknown, as it was kept on retention on the 18th July 1974 when FRE 202A was allocated.
Christine Hancock, who purchases the car in July 1976 kept it for 31 years. There are 13 MOT certificates, the earliest going back to 16th June 1978 showing a speedometer reading of 22,866 miles, proving that in the 30 years the original engine had covered just 15,235 miles.
She sold the car to Sid Locke on the 15th January 2008 and he and his brother in law, Keith Wright restored it with a new body tub from Wheeler and Davies.
A beautiful classic that has been well maintained and represents great value for money.
For more information, please contact a member of our sales team:
+44(0)1207 233 525