1934 MG L-Type - Returned to Owner 8/4/19
ENQUIRE NOW
£74,990
Use our bespoke finance calculator to discover how we could help you to get the car of your dreams.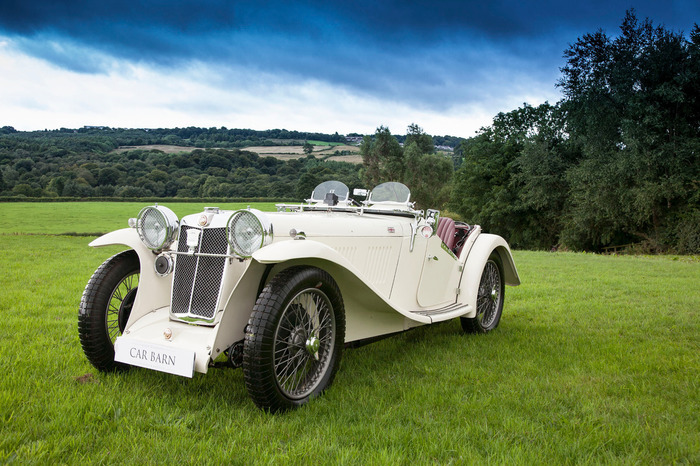 We are delighted to offer for sale this rare 1934 MG L Type KG 5416 (MMM 1826). This special example has a well-documented history, including being runner up in the pre-war class Pride of Ownership at MG Live 2011. Further documented history is as follows:
Early history:
The vehicle was

originally built in 1934 as one of 90 L1 Continental Coupes

It was first registered as KG 5416 in Glamorgan, Wales on 11 April 1935 to Harris and Day Garage

Records suggest that it was converted to an L2 2 seat configuration by November 1935 (an extract from the log book records it as a 2 seater originally registered on 22-11-35), making it one of the earliest L2 conversions. At this time the exterior was finished in maroon

Records from the Glamorgan licensing office show a number of entries subsequent to 1935 for various registration authorities with the last traceable record showing Warwickshire County Council in September 1952

The car was registered with the MMM around 1978 by R D Jones with the original registration of KG 5416
Recent history:
Between 1983 and 1984 the car was renovated and rebuilt by Baynton-Jones for a Swedish client, Helge Pehrsson, the Swedish Ferrari concessionaire in Stockholm, from 1967 until his retirement in the mid 1990's. The car was added to his collection of classic cars which also included a Ferrari 750 Monza, 1934 Aston Martin 1 1/2 litre International, Ferrari 288 GTO and Ferrari F40

During the renovation, the body and a set of aluminium swept wings were built by Rod Jolley. The fuel tank was made by John Lambert in Wimbourne and the body and wings were patterned off Bob Jones' L Type

When it was exported to Sweden in 1984 the car carried the registrations MG 1087 (a reference to the engine size) and GTO 824 (reference to Ferrari)
· The vehicle subsequent had 4 further owners in Sweden, including Hans Christiansen, a professional photographer and part owner of a car magazine called "Bi loch mc". Photos of the car appeared in the magazine and also in the Swedish MG Car Club's Jubilee Bulletinen of 2002 listing the MG cars in Sweden at the time
Current ownership:
· The current owner purchased the car in August 2006 through Barry Walker and it was re-registered with its original registration number KG 5416 in that year
· At the time of purchase, a new set of period Blockley tyres was fitted, headlamp screens added and an original set of tools acquired
· The vehicle has undergone significant restoration work in 2007-2009 with the original aluminum differential casing being replaced with a stronger steel Morris assembly and an extensive engine overhaul and upgrade by Barry Foster at his garage in Butleigh near Glastonbury
· The new engine specification with an increase in capacity from the original 1100cc to approximately 1400cc, includes:
Long stroke cylinder block

Fully counterbalanced, long stroke crankshaft

Lightened flywheel to compensate for crank weight increase

New machined Phoenix con rods with shell bearings

Lightened and balanced flywheel and clutch

FJ Engineering pistons (David Fletcher Jones) 59mm bore x 83mm stroke (original was 57mm x 71mm)

New camshaft and followers with machined profiles for more dwell/overlap and lift

Manifold polished

Carburettors re-polished and reset

Alpine manifold and 11/4" SU carburettors
· In October 2011 a new set of wet weather gear (hood and tonneau) was produced by the coach fitter David Beswick in Derby
For more information or to arrange a viewing please speak to our sales team.