1955 Aston Martin DB2/4
SOLD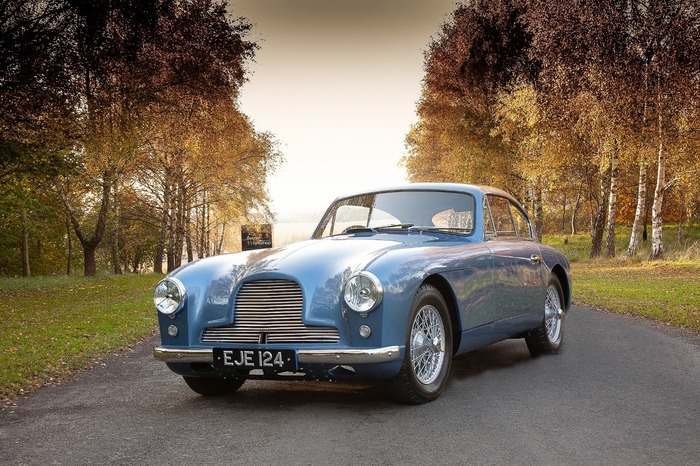 Sorry this car is now SOLD. Please register your interest using our Car Finder service.
Matching engine and chassis numbers.
500 miles since sympathetic restoration
"The Aston Martin DB2/4 is a sports car with a very definite appeal. It has full saloon car comfort, coupled with performance and roadholding of a very high order" (Autocar Magazine)
Further enhanced since entering the current Aston Martin specialist ownership, the past year or so has seen chassis LML/881 treated to an estimated £120,000 worth of expenditure by Aston Workshop. As well as a sympathetic repaint, the 2+2-seater has benefited from partial retiming and complete carpet overhaul. A large portion of the expenditure has been on returning the vehicle to top mechanical working order. The Engine and gearbox have been overhauled to continue the future driving experience of the vehicle. In matching fashion the SU carburettors have been overhauled a new lightweight aluminium fuel tank fitted with new fuel pump and lines. The brakes of the vehicle have been thoroughly rebuilt, a new master cylinder supplies pressure to new brake lines and cylinders all around, shoes re-lined and drums treated appropriately. Electrically a new harness has been fitted and all electrical components proved working. This decidedly smart DB2/4 is worthy of close inspection.
According to its accompanying copy Aston Martin Ltd Build Sheet, this particular MKI 3.0 litre example - chassis number LML/881 was supplied with Alfin brake drums and side jacks. This DB2/4 was delivered on 30th April 1955 to E.H.Organ & Sons Ltd. and the original colour scheme was Blue Haze, with Grey leather and Blue piping.The original UK registration was 'EJE 124' and the vehicle still maintains its original 3.0L engine VB6J 353.
Offered for sale with UK V5C Registration Document, BMIHT Certificate, the aforementioned AML (Ltd) Build Sheet / Service Record, numerous restoration invoices / photos.
Introduced at the October 1953 London Motor Show, the DB2/4 represented a new breed of longer-legged, more accommodating Aston Martin. Some seven inches longer and a little taller than its predecessor, the fitting of a smaller seventeen-gallon fuel tank (still good for circa 300 miles) plus some minor platform changes liberated enough room for two small seats to be positioned above the back axle. Visually distinguished by a one-piece windscreen and rear hatchback, the new model boasted such niceties as a telescopic steering column and adjustable backrests. Panelled in lightweight aluminium over an advanced tubular frame chassis, its independent front suspension featured a sophisticated trailing link, coil-sprung set-up tempered by an anti-roll bar, while at the rear a Panhard rod assisted radius arms in keeping the coil-sprung beam axle firmly tied down. Initially powered by a 2580cc version of the famous Willie Watson / W.O. Bentley designed DOHC straight-six engine, the adoption of a larger 83mm bore size saw capacity rise to 2922cc in mid-1954. Thanks to its increased engine capacity, the 3.0 litre unit was credited with developing some 140bhp - outputs sufficient for a quoted 120mph top speed. Overshadowed by its racing DB3 / DB3S siblings, the model still enjoyed a successful competition career winning the team prize on the 1955 Monte Carlo Rally (interestingly, the factory also fielded a pair of DB2/4s for the Mille Miglia). Of the 565 MKIs made, just 448 are thought to have been two-door saloons.