1954 Aston Martin DB2/4 Mark 1
SOLD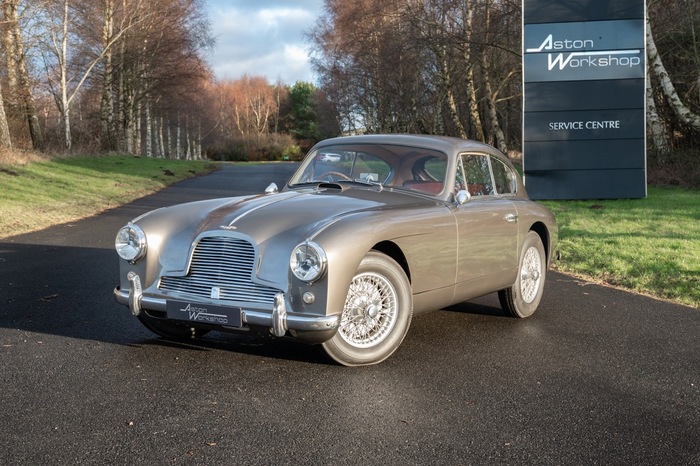 DB2/4 Project Car For Sale
Sorry this car is now SOLD. Please register your interest using our Car Finder service.
Following the success of the DB2, Aston Martin introduced a new and improved model to the world at the 1953 London Motor Show under the name DB2/4. Modifications to the rear half of of the DB2 chassis and a raised roofline allowed for 2 small rear seats to be added, while a hatchback rear opening (one of the first sporting hatchbacks ever put into production) added genuine usability. The W. O. Bentley designed 2.6 Litre Lagonda Straight 6 engine was carried over from the DB2 Vantage and produced 125bhp and 144 ft lb of torque, which took the DB2/4 to a maximum speed of 111mph.
Although designed primarily as a road car Aston Martin made the decision to enter three cars in the 1955 Monte Carlo Rally. Despite time penalties for arriving at checkpoints too early, all three cars finished with one finishing 7th overall after a win around the Monaco GP track. Along with the Monte Carlo entry, DB2/4s were often entered in the Mille Miglia rally in period which grants eligibility for the model in modern Mille Miglia events.
The lasting impact of the DB2/4 however was the effect of it's design on future Aston Martin models; familiar design touches such as the 2+2 seating layout and the famous Aston Martin grille shape would be found on future generations of Aston. As one of the first 'DB' series cars the DB2/4 set the blueprint for the classic British sports GT.
This Car
In it's original specification of Moonbeam Grey over a Grey Leather interior, the car was purchased new from Aston Martin agent SMT Sales and Service in April 1954 by A. L. Hill of Boreland, Lockerbie. The DB2/4 was delivered with various non-standard options designed to support daily use of the car including heavy duty shock absorbers and a pair of wing mirrors, and during the first four years of ownership Mr Hill covered over 40,000 miles. A major service and upgrade in December 1958 included an up-to-date flashing system being fitted to the side and tail lamps while modifications to the bulkhead allowed for a radio to be fitted.
This DB2/4 then made it's way to Hampshire, then London, and after a stint in South Yorkshire spent many years in Lancashire. Over the years the car had been repainted in Red, and was well known to regular visitors to Aston Martin Owners Club events. The most recent owner returned the car to it's original Moonbeam Grey specification during a thorough restoration. The car is known to Aston Workshop and it is on behalf of the owner's family that we present the car for sale.
This is a running car which has been well looked after, although it will need some work to be returned to it's former glory. The car is sold as potential project car for a new owner to undertake, and comes with an extensive history file containing MOT certificates, details of restoration and service work carried out over the cars history and correspondence between previous owners. As a Mille Miglia eligible car and a piece of the company's rich heritage, it represents a fantastic opportunity to own and restore one of the pioneering Aston Martin grand tourers.
If you're interested in this car please contact a member of our sales team on 01207 233525.
About Aston Workshop:
Aston Workshop is an independent Aston Martin specialist located on Red Row Estate, an idyllic 37 acre venue set in the North East countryside. Red Row is located in County Durham, only 2 miles away from Beamish Museum, one of the North's major tourist attractions. We offer a wide variety of contemporary Aston Martins for sale in our showroom including special editions, low mileage examples and high-performance models. Typically we have around 80 cars on-site at any given time. Additionally, we have an unrivalled selection of valuable heritage models which are rare and often rebuilt to bespoke specifications with discrete modern enhancements. Typically stocking fully restored examples, older restorations, drivers, 100% electric zero-emission EV conversions and even barn finds, our showroom is an unrivalled experience for the Aston Martin Enthusiast. We also build cars such as our DB4 GT Zagato recreations and our V8 Evolution 6.0.
Our sales showroom is supported by over 40 vastly experienced workshop staff working with a wide range of comprehensive in-house facilities including all aspects of Aston Martin diagnosis, repair, servicing and restoration to concours standards. Each member of our team works hard to ensure that we stay at the forefront of Aston engineering technology, Aston parts supply and full restorations including fixed-price services where applicable.
Our experienced team are also pleased to help and advise if you are a collector or seeking to purchase a car specifically for investment purposes.
The benefits of buying and selling with us include:
Nationwide collection and delivery service on our own covered transporters
Cars which are prepared by technicians working exclusively on Aston Martins
Our own Aston Workshop Warranty
A comprehensive customer service that truly works for the duration of ownership
The confidence of dealing with a leading independent specialist established over 30 years