Aston Martin DB4 Chassis no. 226/L
SOLD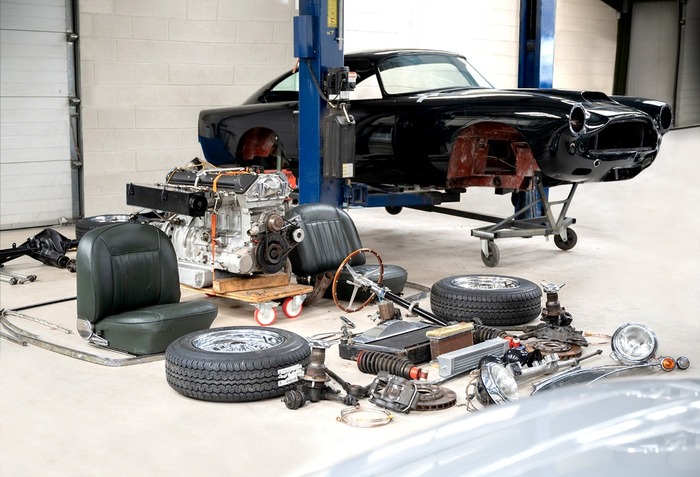 Sorry this car is now SOLD. Please register your interest using our Car Finder service.
DB4 226/L offers an exciting opportunity to own a rare series 1 DB4, one of only forty-five cars produced in LHD, a genuine left hand drive matching numbers car.
This DB4 has a number of modifications including Engine upgrades, Getrag 5 speed gearbox, suspension and chassis modifications with competition in mind.
Options (with approx budget price and excluding UK VAT):
Note VAT is not applicable and charged to cars exported outside of the UK and includes deliveries to Euro zones
Option 01: Full chassis up rebuild, bespoke to you. Full choice of specification, power, trim, paint colours etc POA
For further information about our Restorations visit our website
Option 02: EV - fully electric, high performance. Full chassis up ready, bespoke to you. Full choice of specification, power, trim, paint colours etc.
For further information about our DB4/5/6 EV Conversion Programme visit our website
Price: POA
Option 03: Reassembled in current competition specification and repainted in your choice of colour.
(other options are available, please call us for further information and to discuss your requirements).
Price: POA
Option 04: Rebuilt into a DB4 GT Zagato high specification Aston to our exacting standards.
For further information about our Bespoke 1961 Aston Martin DB4 GT Zagato Recreation visit our website
Price: POA
Option 05: As is, condition dismantled (see pictures). A project to build your own dream car.
Price: POA
Further Information
According to the copy guarantee form on file, left-hand drive chassis number '266/L' was sold new via Patthey, the Swiss Aston Martin agent, to Mr Robert Firmenich of Geneva. The car was supplied with fully chromed road wheels and a heated rear light (screen) and left the factory finished in Desert White with black Connolly leather interior. Other documentation consists of copies of previous Swiss and German registration documents and the copy invoice relating to its sale between E Thiesen to Axel Schütte Klassische Automobile in March 2008. With Weber carburettors, drilled pedals, no bumpers and tow-eyelets, it would appear 266/L enjoyed an element of competitive use with a former owner.
For more information about this Aston Martin or to discuss any of the options above, please contact us on 01207 233525
About Aston Workshop:
Aston Workshop is an independent Aston Martin specialist located on Red Row Estate, an idyllic 37 acre venue set in the North East countryside. Red Row is located in County Durham, only 2 miles away from Beamish Museum, one of the North's major tourist attractions. We offer a wide variety of contemporary Aston Martins for sale in our showroom including special editions, low mileage examples and high performance models. Typically we have around 80 cars on site at any given time. Additionally we have an unrivalled selection of valuable heritage models which are rare and often rebuilt to bespoke specifications with discrete modern enhancements. Typically stocking fully restored examples, older restorations, drivers, 100% electric zero emission EV conversions and even barn finds, our showroom is an unrivalled experience for the Aston Martin Enthusiast. We also build cars such as our DB4 GT Zagato recreations, our V8 Evolution 6.0 and our all new design 6.0 - V8 Superleggera bodied.
Our sales showroom is supported by over 40 vastly experienced workshop staff working with a wide range of comprehensive in-house facilities including all aspects of Aston Martin diagnosis, repair, servicing and restoration to concours standards. Each member of our team works hard to ensure that we stay at the forefront of Aston engineering technology, Aston parts supply and full restorations including fixed price services where applicable.
Our experienced team are also pleased to help and advise if you are a collector or seeking to purchase a car specifically for investment purposes.
The benefits of buying and selling with us include:
Nationwide collection and delivery service on our own covered transporters
Cars which are prepared by technicians working exclusively on Aston Martins
Our own Aston Workshop Warranty
A comprehensive customer service which truly works for the duration of ownership
The confidence of dealing with a leading independent specialist established over 30 years