1964 Aston Martin DB5
SOLD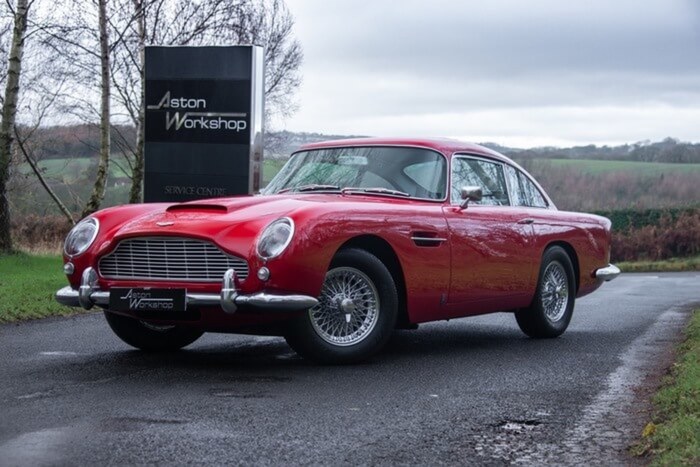 Sorry this car is now SOLD. Please register your interest using our Car Finder service.
We are thrilled to offer a beautiful 1964 Aston Martin DB5 in RHD, presented in its original colours of Fiesta Red and Black trim. Having only covered 89,164 miles and been in ownership for 40+ years, it has had an extensive restoration and is in fantastic condition.
Produced from September 1963 until September 1965 902 Saloon cars and 123 Convertibles were built. The Vantage engine was fitted to 66 cars. Four chassis numbers were issued but not used, so actually only 1021 (not 1025) cars were built. Only 42 Saloons were finished in cellulose Fiesta Red and this one still is. Between September 1985 and September 1988 the car underwent an extensive bare shell restoration which was carried out by David Royle Ltd at Staindrop including body and chassis work, new door interior panels (with new leather) and new roof lining. Brakes and suspension were overhauled. The car was transferred to Post Vintage Engineers at Poole (engine and mechanical specialists) for the rebuilt engine and overhauled gearbox and power line to be fitted.
The historic restoration is fully documented.
More recent work includes:
The engine has been rebuilt by Aston Workshop to lead free specification and 4.2 litres capacity with a new block (irreparable crack in the old one) and retains engine number 400/1835 (three years Aston Workshop warranty).
The rear axle is fitted with a DB7 LSD. This requires Shell Thermally Stable 90 SAE differential oil. Two (1 litre) bottles are available for the new owner. The Armstrong adjustable rear shock absorbers have been replaced with upgraded non-adjustable units, but all the original wiring has been retained in place. The originals are available if the new owner wants them. Front shock absorbers are adjustable Koni units.
A P.D. Gough stainless steel exhaust system is fitted with original cast manifolds.
A G.T. Engineering EPAC2 electronic steering system is fitted together with a smaller (15") steering wheel. This was an OE Moto-Lita option available for all cars. The column now has a collapsible section. The old column and steering wheel are available for a new owner. New rack and pinion gears are fitted in the rack case.
An electronic ignition system is installed with a hidden isolation switch. This also provides a security function.
An electric thermostat-controlled cooling fan is fitted in front of the radiator supplementing the belt driven fan.
Aeon spring assisters are fitted in the rear springs – useful when touring with a full boot.
Glass headlamp covers have replaced the Perspex originals.
A polarity reversal panel is fitted out of sight so that Sat-Navs. and mobile phone chargers can be plugged in.
Hazard warning lights have been fitted.
A fire extinguisher has been installed.
The speedometer face has been updated with KPH in addition to MPH engraving, giving an advantage in continental touring.
Additional insulation has been fitted on all the bulkhead panels and gearbox cover resulting in a much quieter and cooler cab.
Resprayed in 2008 by D Royle Ltd.
A new windscreen motor has been fitted recently.
A new petrol pump has been fitted recently.
Four new Avon CR28 tyres were fitted at 87,515 miles (current reading is 89,164 miles).
An original hydraulic jack (supplied by Aston Martin) comes with the car.
Gearbox refurbishment by ZF Germany.
Routine services and minor repairs have been carried out by the owner with major work carried out by Aston Martin specialist garages. Records of all parts purchased and work done have been kept and filed and are available for the new owner to keep them up to date for future owners.
Two large files are available, one covering the full details of the Royle restoration and the second the history before and after the restoration and is up to date. Numerous spare parts are available.
Storage.
It has lived in a stone built, dry, carpeted, heated and dehumidified garage and has a soft fitted cover. It is now showcased in our state-of-the-art facilities at Aston Workshop.
Usage of the car
For a couple of years after the restoration it was hardly used; the value of the DB5 rose dramatically prompting the owner to keep it securely stored. Then values dropped and it was used on many AMOC and other organiser's Tours in the UK and Ireland and then all over Europe, from Sweden and Norway down to France, Spain, Portugal, Italy and all countries in between. Some of these tours included track days so it has been well exercised on these occasions. It has been displayed on numerous events including two Royal events, the opening of the Aston Martin Newcastle Showroom 'Timeline of Cars' and has won some prizes.
Notable events were:
2003 The AMOC President's Wykeham Fair
2005 Saint Georges Day Parade before HM The Queen at Windsor Castle.
2007 1st in Class 'Pride of Ownership' Award at Chatsworth AMOC Concours.
2016 Aston Martin Newcastle Dealership opening "Timeline of Astons" display.
2016 Windsor Castle Concours of Elegance.
Currently it is probably the best it has ever been with the above improvements making it a superb quiet and comfortable Aston Martin car ready for continental touring.
Available upgrades while eminently usable in her present state, this car can be readily modified and upgraded as may be desired. Changes from RHD to LHD, Engine and suspension upgrades are all possible and cost effective. A full colour change can be made if the new owner desires. We will be glad to quote an all inclusive price for purchase and upgrade as may be requested by the prospective purchaser.
If you're interested please give us a call on +44 (0) 7827 353195
About Aston Workshop:

Aston Workshop is an independent Aston Martin specialist located on Red Row Estate, an idyllic 37 acre venue set in the North East countryside. Red Row is located in County Durham, only 2 miles away from Beamish Museum, one of the North's major tourist attractions. We offer a wide variety of contemporary Aston Martins for sale in our showroom including special editions, low mileage examples and high performance models. Typically we have around 80 cars on site at any given time. Additionally we have an unrivalled selection of valuable heritage models which are rare and often rebuilt to bespoke specifications with discrete modern enhancements. Typically stocking fully restored examples, older restorations, drivers, 100% electric zero emission EV conversions and even barn finds, our showroom is an unrivalled experience for the Aston Martin Enthusiast. We also build cars such as our DB4 GT Zagato recreations and our V8 Evolution 6.0.

Our sales showroom is supported by over 40 vastly experienced workshop staff working with a wide range of comprehensive in-house facilities including all aspects of Aston Martin diagnosis, repair, servicing and restoration to concours standards. Each member of our team works hard to ensure that we stay at the forefront of Aston engineering technology, Aston parts supply and full restorations including fixed price services where applicable.

Our experienced team are also pleased to help and advise if you are a collector or seeking to purchase a car specifically for investment purposes.

The benefits of buying and selling with us include:
Nationwide collection and delivery service on our own covered transporters
Cars which are prepared by technicians working exclusively on Aston Martins
Our own Aston Workshop Warranty
A comprehensive customer service which truly works for the duration of ownership
The confidence of dealing with a leading independent specialist established over 30 years