1969 DB6 Mk2 Vantage
SOLD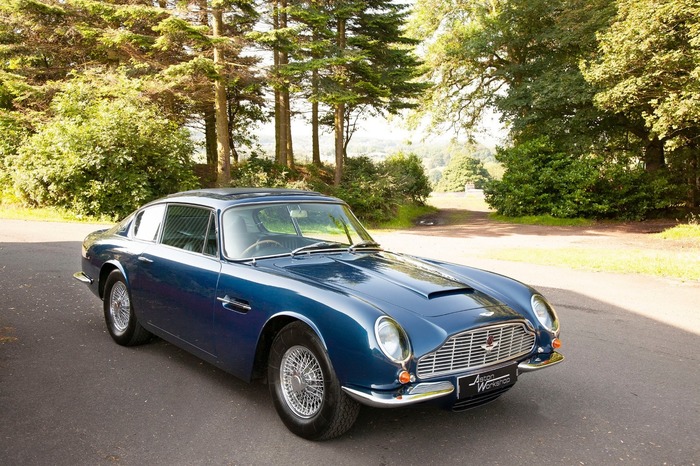 Sorry this car is now SOLD. Please register your interest using our Car Finder service.
An original Sierra blue 1969 DB6 M2 Vantage with black upholstery of which only 42 were originally built, here is your chance to acquire a very rare Aston Martin in exceptional condition.
History –The car has been given a total and very thorough restoration in 1999/2000, the car having a recorded mileage at that time of 87000 miles.
During the car's restoration, the chassis and body was totally restored by Bodylines, the premier Aston body restorers. The engine was given a total rebuild and restoration that included a new cylinder block as part of the engine rebuild and has been converted to unleaded, fitted with electronic ignition and rebuilt to 4.2 litres with new pistons and liners. The car retains its original leather which has been reconnolised.
The suspension was upgraded with a fast road suspension system with a thicker front anti-roll bar, otherwise standard.
The car comes with a complete history, with MOTs, service invoices and statements of work done since the car was bought in 2002 with a recorded mileage of 87,000 miles. Her current MOT expires March 2020. The odometer now reads 21,000.
The car comes with an upgraded Becker Mexico which is a huge improvement on the old long wave radio and other modifications, all capable of being removed to bring the car back to standard, should the new owner desire.
The first of these is the wiper system which has an additional feature to allow it to provide an intermittent wipe.
Second, the car has cruise control with the system operated from 3 buttons fitted on the gearbox cover and located just behind the gear lever.
The final refinement is that the car has central locking and an immobiliser which engages automatically whenever the car is parked up for more than a couple of minutes.
The car is an original DB6 Mk2 Vantage and can be described as in mint condition.
Originally owned new by Dr Dunlop from Edinbourgh who had the car religiously looked after by Newport Pagnel, I remember his last spend with them was £9.000.
I purchased the car from the second owner around 35 years ago (Bob Fountain owner and founder of Aston Workshop).
I personally did the Aston Martin owners club Millennium tour in year 2000 and reluctantly
about 15 years ago I was forced to sell it as part of my divorce settlement
.