DB6 MK1 Vantage - Bespoke Restoration
SOLD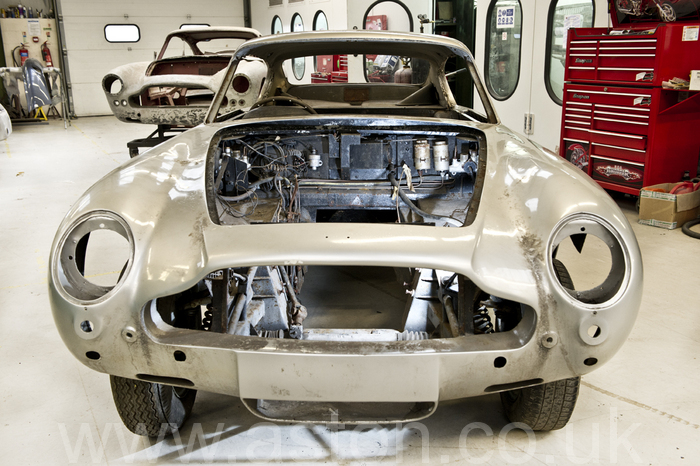 The Ultimate DB6 MK1 Vantage
Create the classic Aston Martin of your dreams. This DB6 MK1 is an original factory Vantage first delivered in 1967, resplendent in the iconic colour combination of Silver with black hide. A true "barn find" it offers a blank canvas, a rare opportunity to restore a classic Aston Martin to your exact specification. Available with all of our best enhancements and upgrades it has the potential to be one of the finest examples in the world today. Such is the level of improvement, we have had to give these Aston Workshop restoration projects a name to distinguish them from the standard models. We believe our car will not only surpass the original MK1 Vantage but also the much sought after MK2.
The DB6 MK1 Vantage BESPOKE from Aston Workshop
------------------------------------------------ The following is a brief description of the restoration process, a more detailed explanation is available on our
New Aston Bespoke Website - click HERE
1. Strip and Assessment
A complete strip, during the course of which all of the trim, all mechanical and electrical components, glass and external bumpers (fenders) and items of external trim are removed. The front and rear body shells, and sill will then be removed for access and stripped of all old paint and the chassis bead blasted to identify all of the corroded sections. All trim will be carefully stored. Mechanical items are cleaned and set aside for overhaul.
2. Reconstruction
Reconstruction then commences, initially with jigging and to provide support to the platform chassis to ensure full and accurate alignment at all times. Once in a secured stage, all sill sections, front and rear suspension mountings, outrigger sections, floors front and rear, front bulkhead, boot supports, A and B posts, bonnet closure panels, rear wheel arches and spare wheel well will be repaired or replaced as required. As new sections are installed and welded up, great care is taken to ensure all enclosed sections are primed and painted and on completion the chassis will then be blasted again and then primed and given a hard, flexible and very durable powder paint covering. Exposed sections are then additionally treated with a protective coating. With the chassis in a fully restored state, the external body shell will be repaired, with new panels let in as required, and door-frames and skins repaired and replaced as needed. The body shell, front and rear are then carefully refitted to the chassis, fully aligned with all bonnet, door and boot apertures carefully gapped and pre-fitted to achieve accurate assembly. The body shell is then prepared & painted in our state-of the-art paint-shop. The restored body shell will be acid-washed to remove all oxidisation, oven dried and etch primed with epoxy high-build primer. The body will then be painted with a modern, water-based paint system, primed and painted to the highest standard. The engine will be totally re-manufactured. Engine overhaul will commence ensuring that the cylinder block will be recovered to as new, with new 4.2 litre cylinder liners, forged Cosworth pistons and reassembled to original tolerances. The oil pump will be renewed as a matter of course. All rotating assemblies are then fully balanced statically and dynamically. The cylinder head will be fitted with new valves, guides and seats to full unleaded specification and then reassembled with new timing chains and tensioner studs etc. External components, such as the throttle linkages, will be sent away to be nickel plated and refitted. The completed engine will then be dyno tested and carefully run in. Gearbox and final drive will also be fully overhauled, prior to refitting, as will the steering rack. At this stage it is possible to personalise your Aston in the same manner as HRH the Prince of Wales and you can download a brochure outlining our most popular enhancements by clicking here:
ENHANCEMENTS
3. Assembly
Assembly of the car begins with the fitting of all new brake pipes, wiring looms and fuel lines. With the font and rear suspension components having been enameled, the front and rear suspension will then be refitted with up-rated fast road Monte Carlo springs, dampers and front anti roll bar with all new bushes and pivots. Refitting of the overhauled steering system follows. Engine and transmission are then installed, and the under-bonnet systems and components, all new, are then fitted, all of which will have been superbly detailed to the highest standards. An up-rated radiator is also included in the final specification. The dashboard is then refitted with fully overhauled instruments and new switches as required. New trim and carpets come next, and all new glass is fitted as a matter of course. Chromed components, such as front and rear bumpers, and window frames are re-chromed to the highest possible standard. The actual restoration is of course a much more involved process but we hope this gives an idea of the depth and thoroughness of an Aston Workshop project.
In summary;
This is a great opportunity to purchase what will surely be one the finest examples of an Aston Martin DB6. We anticipate a great deal of interest in this project and it is advised that any interested parties contact us as soon as possible on +44 (0)1207 233 525 ------------------------------------------- Original literature for the DB6: Original literature (French): Aston Workshop Investments Guide: