1966 Aston Martin DB6 Mk1 Auto
SOLD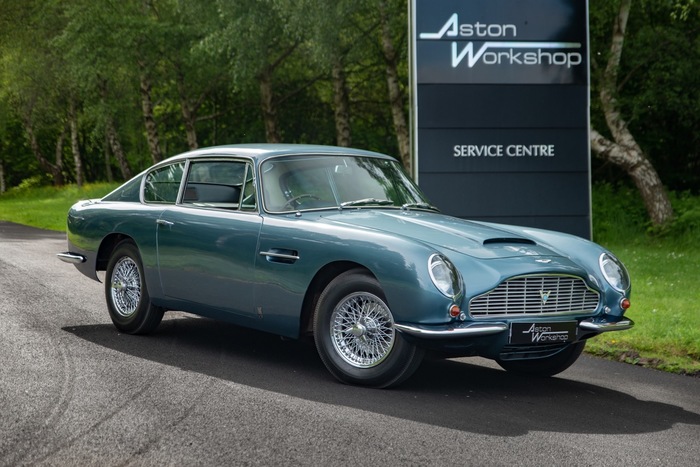 Sorry this car is now SOLD. Please register your interest using our Car Finder service.
Retaining much of its originality, this 1966 Aston Martin DB6 Mk1 Auto still has an undeniable charm and its original number plate. The DB6 is currently undergoing sill replacement in our expert body shop to ensure longevity and will be also complemented with fresh paintwork to match. It's matching numbers throughout and presented in the original colour of Capri Blue, a rare hue for a DB6 but one that suits it making the big GT look slimmer and lighter somehow and will, without a doubt, turn heads as it continues to age gracefully. It is also noted that the automatic four-speed gearbox has received the 'Chapman' upgrade, and this is very clear when you experience the smoothness of the shifts.
This vehicle is eligible for our exclusive DB EV conversion and the owner of Aston Workshop Bob Fountain was considering converting this vehicle to electric himself before presenting it for sale. If this is something of interest to you then please get in touch.
DB6/2563/R was delivered new to H.W motors Ltd for J.F.P Tate, Esq. finished in Capri Blue with Dark Blue Connolly hide (VM 3282) and dark blue carpets. Although subsequently resprayed, the Aston is still presented today in the same Capri Blue with its very nicely aged original interior. The Aston Martin Heritage Trust Certificate confirms the specification being right-hand drive and fitted with a Borg-Warner, 4-speed automatic gearbox plus non-standard equipment including chrome roadwheels, heated rear window, three-eared hub spinners, Fiamm horns, a powered aerial, and Avon Turbospeed tyres. The car was in daily use early on in its life and regularly serviced and maintained including a cylinder head overhaul and front suspension rebuild in 1967. It is still matching numbers, today, unlike many DB6s.
The car's second owner was a Mr Pitkethly in 1984 who sold it, in 1992, to a Mr Hine who, in turn, later sold the DB6 to Le Riche 'Automobile Restorers' of Jersey in 2002. A little later, Le Riche was persuaded to part with the Aston by a Mr Hoy of Jersey (Reg. J 6929) who kept the vehicle until its export out of Jersey in December 2009.
The next change of ownership was to Aston Martin Works Ltd. in April 2014, which sold it to the owner prior to our vendor. He appears to have cherished the car judging by its lovely overall condition today and covered less than 600 miles in nearly 4 years.
This particular DB6 is supplied with a fascinating history file direct from the current private owner who has had it for the last seven years, covering very few journeys but all of them memorable we are assured!
The history file includes a Heritage Trust Certificate confirming both the original factory specification and matching numbers status. With 28,445 miles on the clock, this DB6 is in good usable condition. If you would like to enhance this DB6 to your specifications we can help. If you would like to convert it from RHD to LHD, change the colour, convert it to electric, fit an air conditioning unit, fit a 5 Speed Manual gearbox, or anything else, we can accommodate your request.
If you're interested please speak to a member of our sales team.
About Aston Workshop:

Aston Workshop is an independent Aston Martin specialist located on Red Row Estate, an idyllic 37 acre venue set in the North East countryside. Red Row is located in County Durham, only 2 miles away from Beamish Museum, one of the North's major tourist attractions. We offer a wide variety of contemporary Aston Martins for sale in our showroom including special editions, low mileage examples and high performance models. Typically we have around 80 cars on site at any given time. Additionally we have an unrivalled selection of valuable heritage models which are rare and often rebuilt to bespoke specifications with discrete modern enhancements. Typically stocking fully restored examples, older restorations, drivers, 100% electric zero emission EV conversions and even barn finds, our showroom is an unrivalled experience for the Aston Martin Enthusiast. We also build cars such as our DB4 GT Zagato recreations and our V8 Evolution 6.0.

Our sales showroom is supported by over 40 vastly experienced workshop staff working with a wide range of comprehensive in-house facilities including all aspects of Aston Martin diagnosis, repair, servicing and restoration to concours standards. Each member of our team works hard to ensure that we stay at the forefront of Aston engineering technology, Aston parts supply and full restorations including fixed price services where applicable.

Our experienced team are also pleased to help and advise if you are a collector or seeking to purchase a car specifically for investment purposes.

The benefits of buying and selling with us include:
Nationwide collection and delivery service on our own covered transporters
Cars which are prepared by technicians working exclusively on Aston Martins
Our own Aston Workshop Warranty
A comprehensive customer service which truly works for the duration of ownership
The confidence of dealing with a leading independent specialist established over 30 years