DB6 MKII Vantage Volante
SOLD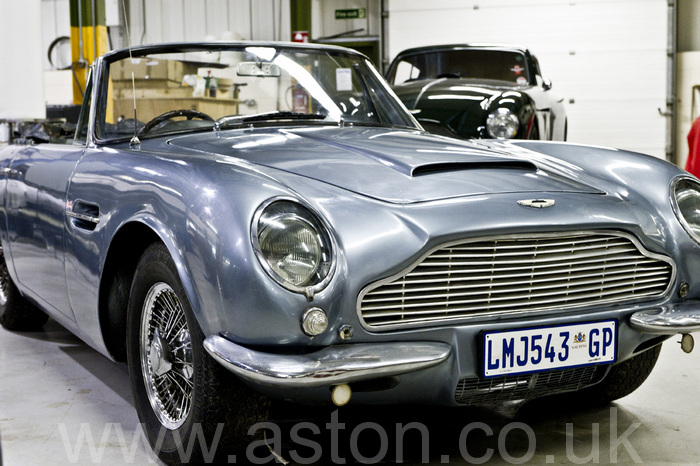 Could this be the Ultimate DB6?
What we have here is a 'once-in-a-lifetime' opportunity for any serious classic car collector or enthusiast. The DB6 MKII Vantage Volante is one of the rarest and sought after Aston Martin cars ever made. Only 12 of these incredibly desirable convertibles were ever made (perhaps the most famous of them belongs to HRH the Prince of Wales) and only 3 of those 12 were automatic transmission, making this an ultra rare example. The Prince took delivery of his particular Vantage Volante on his 21st birthday and he has remained incredibly loyal to Aston Martin and his DB6 in particular ever since, indeed few cars are so closely associated with a member of the Royal family.
What makes a car such as this one so appealing?
First of all, there is no doubt that rarity plays a large part. With only 3 of these specific models ever made, fewer in fact than the famous DB4 GT Zagato that sell for millions of pounds each, it is without doubt a very rare Aston indeed. Then of course you have the added kudos of the Royal connection already mentioned but perhaps most important of all are the dynamics that made this car so desirable in the first place, as fantastic today as it was when first reviewed by motoring journalists of the day. "With the combination of the up-rated Vantage engine producing around 325BHP, open-air motoring and generously appointed with leather upholstery, deep-pile carpets and an electrically operated hood, it represents the very best of British design & engineering, a glowing testament to the craftsmen and woman who hand-build these beautiful cars. Indeed, there simply could not be a better way of getting from A-B on a lazy summer evening." The only way to appreciate the pleasure derived from such a journey is to drive the car on your favourite back-roads and soak up every sensation delivered via that open top. The sound of the fabulous triple Weber vantage engine coupled with the warmth of the sun & wind in your hair, the beautiful lines of the hand-crafted bonnet stretching before you and the iconic interior with stunning leather upholstery, unmistakable instrument cowling and classic DB embossed wheel. Every element combining to give you the greatest drive of your life, you really do feel at one with your surroundings, little else comes close. This particular car was originally delivered to Atkinson Oates Motors Ltd. (South Africa) in October 1970 and has been in the possession of the same family for the last 30 years. It has matching numbers and is in the original specification detailed in Aston Martin's records, right hand drive, with automatic and Vantage engine, now requiring a new guardian to help restore it to its former glory.
The following is a necessarily brief description of what the restoration of this fine car will involve;
1. Strip and Assessment
A complete strip, during the course of which all of the trim, all mechanical and electrical components, glass and external bumpers (fenders) and items of external trim are removed. The front and rear body shells, and sill will then be removed for access and stripped of all old paint and the chassis bead blasted to identify all of the corroded sections. All trim will be carefully stored. Mechanical items are cleaned and set aside for overhaul.
2. Reconstruction
Reconstruction then commences, initially with jigging and to provide support to the platform chassis to ensure full and accurate alignment at all times. Once in a secured stage, all sill sections, front and rear suspension mountings, outrigger sections, floors front and rear, front bulkhead, boot supports, A and B posts, bonnet closure panels, rear wheel arches and spare wheel well will be repaired or replaced as required. As new sections are installed and welded up, great care is taken to ensure all enclosed sections are primed and painted and on completion the chassis will then be blasted again and then primed and given a hard, flexible and very durable powder paint covering. Exposed sections are then additionally treated with a protective coating. With the chassis in a fully restored state, the external body shell will be repaired, with new panels let in as required, and door-frames and skins repaired and replaced as needed. The body shell, front and rear are then carefully refitted to the chassis, fully aligned with all bonnet, door and boot apertures carefully gapped and pre-fitted to achieve accurate assembly. The body shell is then prepared & painted in our state-of the-art paint-shop. The restored body shell will be acid-washed to remove all oxidisation, oven dried and etch primed with epoxy high-build primer. The body will then be painted with a modern, water-based paint system, primed and painted to the highest standard. The engine will be totally re-manufactured. Engine overhaul will commence ensuring that the cylinder block will be recovered to as new, with new 4.2 litre cylinder liners, forged Cosworth pistons and reassembled to original tolerances. The oil pump will be renewed as a matter of course. All rotating assemblies are then fully balanced statically and dynamically. The cylinder head will be fitted with new valves, guides and seats to full unleaded specification and then reassembled with new timing chains and tensioner studs etc. External components, such as the throttle linkages, will be sent away to be nickel plated and refitted. The completed engine will then be dyno tested and carefully run in. Gearbox and final drive will also be fully overhauled, prior to refitting, as will the steering rack. At this stage it is possible to personalise your Aston in the same manner as HRH the Prince of Wales and you can download a brochure outlining our most popular enhancements by clicking here:
ENHANCEMENTS
3. Assembly
Assembly of the car begins with the fitting of all new brake pipes, wiring looms and fuel lines. With the font and rear suspension components having been enameled, the front and rear suspension will then be refitted with up-rated fast road Monte Carlo springs, dampers and front anti roll bar with all new bushes and pivots. Refitting of the overhauled steering system follows. Engine and transmission are then installed, and the under-bonnet systems and components, all new, are then fitted, all of which will have been superbly detailed to the highest standards. An up-rated radiator is also included in the final specification. The dashboard is then refitted with fully overhauled instruments and new switches as required. New trim and carpets come next, as well as the fitting of a completely new hood and headlining. All new glass is fitted as a matter of course, and all chromed components, such as front and rear bumpers, and window frames are re-chromed to the highest possible standard.
In summary;
This really is an amazing opportunity to become involved in one of the most significant Aston Martin restorations we have ever undertaken, resulting in ownership of one the finest and most desirable of all classic Aston Martins, and quite possibly, the ultimate DB6. We expect a great deal of interest in this wonderful car and it is advised that any interested parties contact us as soon as possible on +44 (0)1207 233 525. ------------------------------------------- Original literature for the DB6: Original literature (French): Aston Workshop Investments Guide: