DB6 MK1 Vantage
SOLD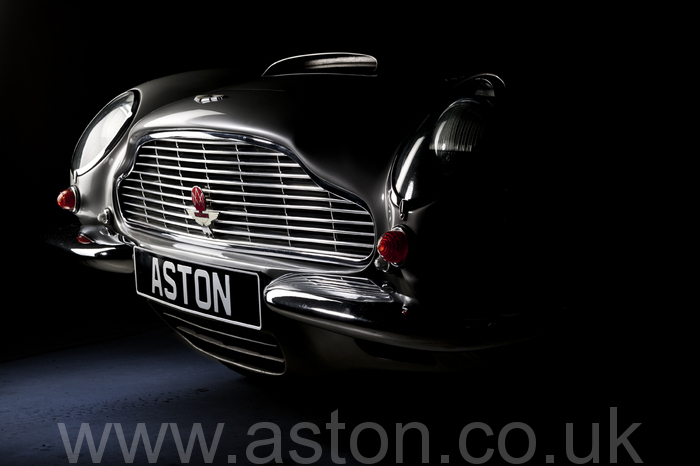 The DB6 is a great choice for those wishing to purchase a classic Aston Martin from the golden period of Aston production. It was developed with a view to making an Aston that was more usable day-to-day. The emphasis was on more room for all, making it ideal for those wishing to share the pleasure of classic Aston Martin ownership with family or friends. At the same time, no compromise was made in terms of performance or handling, ensuring that the DB6 adheres to the Aston Martin core values of luxury and performance combined with stunning looks. As with previous Aston Martin models, a high-power DB6 Vantage was offered. It was equipped with three Weber carburetors and higher compression ratio cylinder head. This particular DB6 Vantage comes complete with a continuous and extensive history folder detailing work undertaken by leading Aston Martin specialists. With a full service and MOT just 114 miles ago in August 2012 and a total of £20,000 spent in the last 18 months this example has clearly been maintained with absolute reliability in mind. In the iconic colour combination of silver with black (patinated) hide, this mechanically sound, original spec 'factory Vantage' is ready to be driven away and enjoyed by the next guardian and is sure to give a great deal of pleasure for generations to come. We have seen a surge of interest in the DB6 in recent years and would recommend those who are interested contact a member of our sales team as soon as possible for further details to avoid any disappointment. +44 (0)1207 233 525

----------------------------------------- There is another aspect of owning an Aston Martin DB model that is often overlooked, and yet could be of real significance when it comes to deciding which classic car to go for. The price of classic Aston Martin cars continue to rise, and while we don't wish to make any misleading claims about their 'investment' potential, our experience has shown that these models in particular have generated significant returns over the last two decades in particular. Prices can go down as well as up of course, and no-one can predict future trends accurately, but based on recent figures, it's certainly worthy of consideration. Having said that, Aston Workshop owner Bob Fountain has always maintained that you "buy an Aston with your heart, not your head" and long may that continue to be the case! Aston Workshop Investments Guide:

------------------------------------------- Original literature for the DB6:

Original literature (French):

----------------------------------------------- History of the DB6 The DB6 was announced and shown to the public for the first time at the London Motor show in October 1965 and shares its general specification with the DB5. The most obvious difference between the DB6 and DB5 were changes made to the rear body, the rear spoiler or KAMM tail and the lengthened wheel base to realise a 4 seat capability, reduced cost of production and an improvement in performance through reducing drag and lift at speed. Other changes led to modification to the front to reduce lift, improve cooling and this led to the fitting of quarter bumper bars as opposed to the full width ones fitted to the DB5. The use of unequal length trailing arms for the rear axle, required to enable the adoption of an increased wheelbase, also had the benefit of increasing the rear end roll stiffness which further improved the general stability of the new DB6. Despite all of the modification for the DB6, weight was only marginally increased and the no cost option of a full Vantage specification engine realised a performance for the DB6, rivaling that of the DB4 GT some years earlier and never achieved with the DB5. On the road, the DB6 is noticeably steadier and in general use a more comfortable car with noticeably better internal room for driver and passenger alike. General handling is at least as good as the earlier DB5 and the ride generally is more controlled and comfortable. All in all, the DB6 though planned as an interim model, had indeed achieved a worthwhile gain over its predecessor, all be it at the expense of some of the purity of line exhibited by the DB4 and 5. While the general specification of the DB6 resembled closely that of the DB5, its achievable maximum speed went up to 148 mph from 141 mph with correspondingly improved acceleration.
ORIGINAL SPECIFICATION - ASTON MARTIN DB6 Vantage
TOTAL PRODUCTION:
ORIGINAL PRICE:
1567
£4998
PERFORMANCE:
DIMENSIONS:
CHASSIS:
ENGINE:
0-60 MPH - 6.5 Secs
Length - 4928 mm
Suspension Front - ndependent, coil springs
Configuration - In line six
Top Speed - 148 MPH
Width - 1829 mm
Suspension Rear - Beam axle, coil springs
Aspiration - Normal
BHP - 325
Height - 1353 mm
Drivetrain - Front engine, RWD
Fuel delivery - 3 Weber 45 DCOE9 carburettors
Torque 290b/ft
Weight - 1474 Kgs
Transmission - 5 speed manual (Auto option)
Capacity - 3996 cc