2009 Aston Martin DBS Coupe
SOLD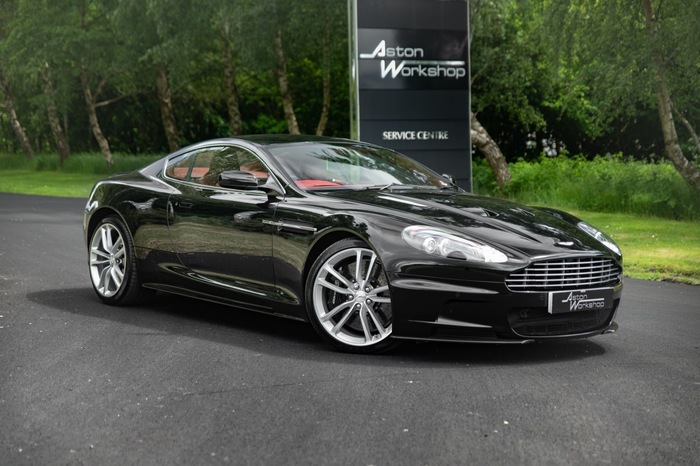 Sorry this car is now SOLD. Please register your interest using our Car Finder service.
Announced to the world at the 2007 Pebble Beach Concours d'Elegance, the DBS replaced the 2004 Vanquish S as the flagship of the marque. Having featured in two James Bond films, Casino Royale and Quantum of Solace, the DBS is aggressive and powerful demonstrating a exciting direction for Aston Martin.
The V12 engine from the DBS produces 510 bhp, can reach 0-60 mph in 4.2 seconds, and has a top speed of 191 mph. Aston Martin's high level of refinement has meant wind noise is well suppressed, and the big V12 is vocal when you want it to be and near-silent the rest of the time. Along with an excellent ride it makes for a formidably able long-distance tourer.
This particular DBS has been finished in Storm Black exterior and Chancellor Red interior as well as being fitted with a Touchtronic transmission. This petrol-powered mile muncher is the perfect car for someone who wants to cruise across continental Europe in incredible comfort while being to accelerate off the line like a supercar.
We are especially excited about being able to have this DBS in our showroom because this actual car was the vehicle that Aston Martin displayed at the 2008-09 motor show. This demonstrates how proud and confident the British brand was of this car.
This DBS includes a Paint Black Facia Trim, Auto-Dimming Rear-View Mirror, Personalised Sill Plaques, Chancellor Red upper and lower trim colour, 20-Spoke Graphite wheels, and a Bang & Olufsen entertainment system.
With only 15,031 miles on the clock, one former owner from new, and a full documented history you probably can't find many better DBS models on the market. If you're interested please get in touch with one of our sales team.
About Aston Workshop:

Aston Workshop is an independent Aston Martin specialist located on Red Row Estate, an idyllic 37 acre venue set in the North East countryside. Red Row is located in County Durham, only 2 miles away from Beamish Museum, one of the North's major tourist attractions. We offer a wide variety of contemporary Aston Martins for sale in our showroom including special editions, low mileage examples and high-performance models. Typically we have around 80 cars on-site at any given time. Additionally, we have an unrivalled selection of valuable heritage models which are rare and often rebuilt to bespoke specifications with discrete modern enhancements. Typically stocking fully restored examples, older restorations, drivers, 100% electric zero-emission EV conversions and even barn finds, our showroom is an unrivalled experience for the Aston Martin Enthusiast. We also build cars such as our DB4 GT Zagato recreations and our V8 Evolution 6.0.

Our sales showroom is supported by over 40 vastly experienced workshop staff working with a wide range of comprehensive in-house facilities including all aspects of Aston Martin diagnosis, repair, servicing and restoration to concours standards. Each member of our team works hard to ensure that we stay at the forefront of Aston engineering technology, Aston parts supply and full restorations including fixed-price services where applicable.

Our experienced team are also pleased to help and advise if you are a collector or seeking to purchase a car specifically for investment purposes.

The benefits of buying and selling with us include:
Nationwide collection and delivery service on our own covered transporters
Cars which are prepared by technicians working exclusively on Aston Martins
Our own Aston Workshop Warranty
A comprehensive customer service which truly works for the duration of ownership
The confidence of dealing with a leading independent specialist established over 30 years