2011 Aston Martin V8 Vantage Coupe
SOLD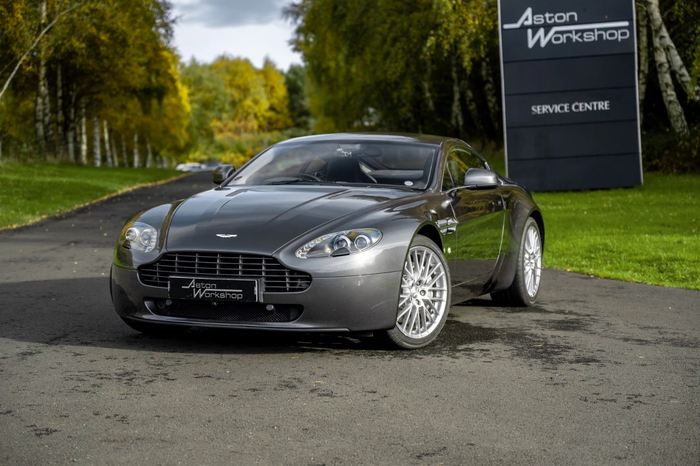 Upgrade Twin-Plate Clutch + Great Spec
Sorry this car is now SOLD. Please register your interest using our Car Finder service.
We are delighted to offer this stunning 2011 V8 Vantage Coupe Sportshift which has just arrived for sale at Aston Workshop. Presented in Meteorite Silver with Phantom Grey Leather and contrasting red stitching interior, having covered only 36129 miles and comes with a full Aston Martin Service History (10 stamps) from its three previous owners.

The 4.7L V8 engine produces 420bhp and 346lbft of torque, with a 0-60 time of only 4.8 seconds. The V8 engine is paired to a Sportshift gearbox which has recently had a lightweight flywheel and twin-plate clutch upgrade fitted approximately 1000 miles ago which gives a transformative upgrade in the Vantage driving experience.

The moulded lines of the V8 Vantage are set off particularly well in this colour combination. As well as the great aftermarket upgrades to the specification such as Apple Carplay, Front & Rear View Cameras and Aston Martin Tracker system and of course the twin plate clutch make this Aston stand out from the rest with a touch of individuality.

Optional extras fitted include:
- 19 inch 20 Spoke Alloys
- Silver Brake Callipers
- Bluetooth
- Satellite Navigation
- Apple Carplay
- Heated Seats
- Memory Seats
- Front & Rear Parking Sensors
- Front & Rear View Cameras
- Front & Rear Nextbase Dash Cam
- Gunmetal Facia Trim
- Powerfold & Auto-Dimming Mirrors
- Tailored Rubber Aston Martin Floor Mats
- Aston Martin Tracker System

Included is a fresh service, full MOT and 6 months Aston Workshop warranty. We can also provide nationwide delivery on our covered transporter.

For more information or to arrange a viewing, don't hesitate to get in touch with a member of our sales team on 01207 233525.
About Aston Workshop:
Aston Workshop is an independent Aston Martin specialist located on Red Row Estate, an idyllic 37-acre venue set in the North East countryside. Red Row is located in County Durham, only 2 miles away from Beamish Museum, one of the North's major tourist attractions. We offer a wide variety of contemporary Aston Martins for sale in our showroom including special editions, low mileage examples and high-performance models. Typically we have around 80 cars on-site at any given time. Additionally, we have an unrivalled selection of valuable heritage models which are rare and often rebuilt to bespoke specifications with discrete modern enhancements. Typically stocking fully restored examples, older restorations, drivers, 100% electric zero-emission EV conversions and even barn finds, our showroom is an unrivalled experience for the Aston Martin Enthusiast. We also build cars such as our DB4 GT Zagato recreations and our V8 Evolution 6.0.
Our sales showroom is supported by over 40 vastly experienced workshop staff working with a wide range of comprehensive in-house facilities including all aspects of Aston Martin diagnosis, repair, servicing and restoration to Concours standards. Each member of our team works hard to ensure that we stay at the forefront of Aston engineering technology, Aston parts supply and full restorations including fixed-price services where applicable.
Our experienced team are also pleased to help and advise if you are a collector or seeking to purchase a car specifically for investment purposes.
The benefits of buying and selling with us include:
Nationwide collection and delivery service on our own covered transporters
Cars which are prepared by technicians working exclusively on Aston Martins
Our own Aston Workshop Warranty
A comprehensive customer service which truly works for the duration of ownership
The confidence of dealing with a leading independent specialist established over 30 years