V8 Project Car
Sold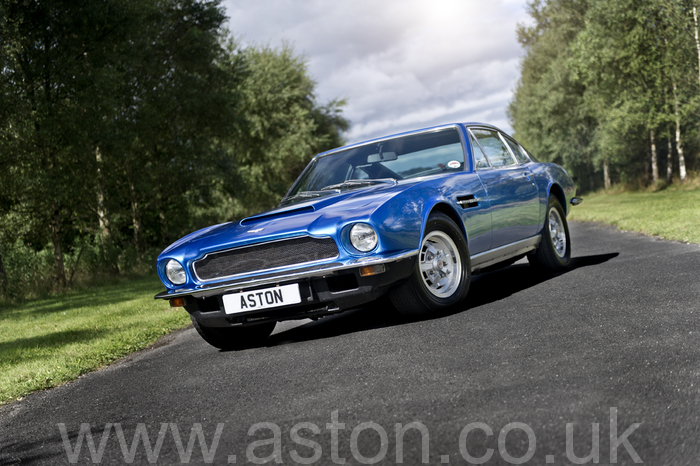 This classic V8 will make an ideal "project" car. It has matching numbers, drives well, has a strong engine and good transmission as well as a good, original interior. It does require chassis and sill renovation to make it a useable classic, but should also be considered by those looking to invest in the restoration of an Aston Martin V8. Growing rapidly in popularity with collectors and enthusiasts alike, the restoration of these V8s from the 70's now makes sound economical sense for those looking at long term investment. Aston Workshop can offer different levels of restoration including our "V8 Bespoke" the details of which are outlined below... -----------------------------------------
Aston Workshop V8 Bespoke
Celebrating 100 years of Aston Martin and 25 years of Aston Workshop each model in the Aston Bespoke Range offers the very latest enhancements and upgrades, transforming them into the ultimate version of these iconic classics. One of the most recognisable Aston Martins of all time, The replacement for the DBS V8, the "AM V8" was a tremendous success and still retains a 'presence' that most of today's supercars fail to match. This is your opportunity to create the car of your dreams, with more than a little help from Aston Workshop of course! This bespoke V8 will represent the very finest restoration possible with every conceivable enhancement, resulting in what must surely be the ultimate V8. The following is a brief description of the restoration process, a more detailed explanation is available on our
New Aston Bespoke Website - click HERE
-----------------------------------------
Body & Paint
On all Bespoke models we would generally replace the entire panel work forward of the A-Post and from the B-post to the rear with a totally new panel structure. A rigorous attention to detail, careful shaping, filing, priming, flatting and guide coating is necessary to achieve the end results demanded of a Bespoke V8. We use the latest computer based technology, skill and experience, together with an enormous selection of paint codes to offer the widest range of colours imaginable.
Chassis
Dealing with the chassis correctly is paramount to a successful bespoke project. The original chassis of this V8 has been completely re-furbished. The chassis was stripped bare and shot blasted to reveal any areas of corrosion. The corroded sections were then cut out and replaced. All internal sections were then treated with weld-through primer. The result is a chassis that has been re-furbished to the highest standards, ready for the new body and the next stage of restoration.
Engine
At Aston Workshop we can produce engines which far surpass original reliability and performance. With the benefit of modern materials, machining techniques and oils we regularly build high performance engines to the highest specification, a perfect example of what can be achieved when starting from scratch, using modern upgraded parts and appropriate modifications. We encourage our Bespoke owners to stipulate final engine specifications after careful consultation with our industry leading experts.
Suspension
Modern, adjustable gas filled dampers, progressive rate springs and modern radial tyres have transformed the handling characteristics of modern cars. These dampers are now available to classic car owners too and are fitted as standard on all Bespoke models. We are also working towards being able to offer in-car adjustable dampers on Bespoke models. There is also the question of wheel & tyre choice. At the end of the day, this is a personal decision, and while we will recommend certain options that we know work well, the choice inevitably must be down to the owner.
Transmission
Thanks to our vast experience and some clever designs we have developed transmission enhancements that not only offer increased performance and safety but are also thankfully very discreet. On the Bespoke V8 we can offer the following: 4 speed auto The standard 3-speed automatic transmission can be upgraded to a ZF 4-speed, offering greater flexibility and economy as well as an all-round improvement in the driving experience. New Tremec T-56 manual A brand new unit, the T-56 from Tremec can also be specified. Originally introduced on the Dodge Viper in 1992, the T-56 is the transmission of choice for today's high-performance sports cars. This fully synchronised 6-speed transmission features a double overdrive design maximising performance, while minimising fuel consumption and providing clean, crisp shifts for high-performance driving. NOTE: We are also developing a new multi-speed electronic gearbox as an option for our Bespoke models, availability to be announced.
Brakes
When building a car such as the Bespoke DB5, it's absolutely essential that the brakes be upgraded or enhanced to the very best specification possible in order to match its all-round improvement in performance. The following upgrade can be fitted to all V8 Bespoke models, greatly enhancing safety and handling under braking. The A.P. Racing upgrade offers ventilated discs and increased capacity calipers. The result is a massive increase in reliability and stopping power, the ultimate and recommended set-up of choice for all Bespoke V8 models.
Electrical
All Bespoke V8 models will include all new wiring looms, switches, connections, relays, fuse systems etc. to ensure reliability of all electrical components. Every Bespoke model will also include a high output alternator to improve reliability and capacity of the charging system. In addition to this a conversion to negative earth will be carried out to make it compatible with modern electronic equipment. The Daytona electric window kit is fitted as standard to improve performance and reliability and we even fit a warning buzzer to the side light system to avoid the frustration of returning to a non-starting Aston thanks to a drained battery. In addition to this, the Bespoke range will have the following electrical upgrades available: Electric power assisted steering Thatcham 1 alarm system Remote central locking Tracker systems Intermittent wiper/washer system A variety of ICE options with I-pod connection and Sat Nav Hazard warning light system HID headlight upgrades Electronic and heated memory seats Please contact our workshop manager to discuss model specifics.
Exhaust
The choice of exhaust system can dramatically alter the character of your tailor-made car. With this in mind, we are able to offer the following options for your Bespoke V8. Option 1 – Original Spec Stainless Steel replacement Standard Stainless Steel system including exhaust and manifold. Optional, ceramic 'Zircotec' coating providing exceptional heat insulation. Option 2 – Big Bore Assembly Double or single silencer system with optional 2 or 4 tailpipe outlets. Optional, ceramic 'Zircotec' coating providing exceptional heat insulation.
Trim
The interior of your V8 will be completely re-trimmed to your specification. This includes a wide range of materials in a myriad of colour combinations. Modified instrumentation is also available as are optional chrome switches and centre armrest/glovebox. Sound insulation upgrades are standard on all bespoke models allowing for longer journey lengths in greater comfort. Exterior trim includes the fitting of new glass as a matter of course, plus all chrome areas prepared and re-chromed or fully replaced where necessary.
Tropicalisation
Our 'Tropicalisation' upgrade was specifically developed to deal with the hottest and most humid climates on the planet, but is of course of benefit to any owner of a bespoke model, anywhere in the world. Your Bespoke V8 will be upgraded to include a twin zone, front and rear air-conditioning system and total heat insulation of the cabin area using a specially designed woven insulation fabric hidden in the floor, roof and doors. We will also coat the exhaust manifolds and front pipes with a ceramic 'Zircotec' coating for ultimate heat insulation. -------------------------------------- Seriously interested parties should contact us soon to avoid disappointment: +44 (0)1207 233 525
Tweet
-----------------------------------------