1972 Aston Martin V8
SOLD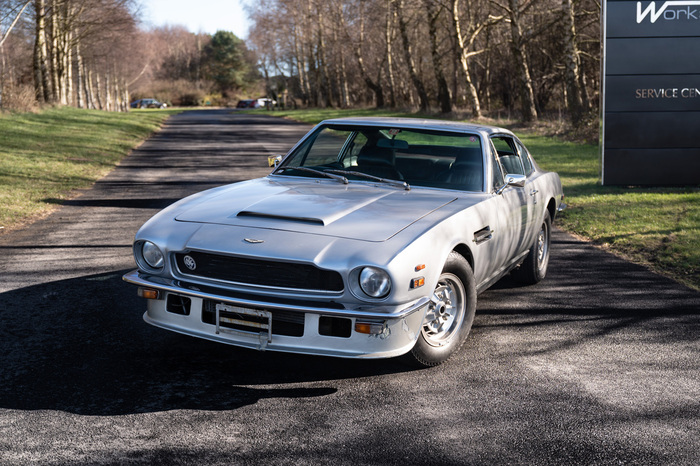 AM V8 Project Car For Sale
This Car
Supplied new to Eastern Motors Co. on the 15th of November 1972, this car was one of only 288 Series 2 cars built between April 1972 and July 1973. Originally specified as a Tudor Green car with a Black interior, the car was built for export to the Japanese market where it resided for a number of years. Very little is known about the car after it's export to Japan; the car spent some time in a private collection in the Middle East before returning to the UK.
This AM V8 is now presented for sale by Aston Workshop as the basis for a restoration project. The car starts and can be moved under it's own power for loading/unloading purposes, however work is needed to return the car to a truly drivable state. Despite wearing the DBSV8 badging of the previous model, our records confirm this car is a "Series 2" V8 although the original fuel injection system has been replaced with a carburettor setup. The current engine set up provides satisfactory oil pressure and cylinder compression.
The interior tells a similar story; the seats are in a good condition and show a pleasant patina. While substantially complete, some individual interior parts are either missing or beyond repair however, so replacements will need to be sourced (Aston workshop has an extensive parts selection which could prove helpful to the cars next owner). The dashboard is solid and all switchgear seems to be present, although we cannot confirm whether it is all in working order.
Sold as a project car ideal for a new owner to rebuild this AM V8 is not without its faults however with some care and attention could be back on the road. If this looks like it could be the project for you, our helpful sales and workshop teams are happy to discuss the car in further detail; please call +44 (0) 1207 268 932 or email sales@aston.co.uk.
About the Aston Martin V8
As a development of the DBS introduced in 1967, the AM V8 was the realisation of a decade long project to bring a V8 powered Aston Martin to market. The new V8 model featured a similar silhouette to the outgoing DBS, with a new front end treatment that would remain with the car for nearly 20 years. By pairing a fresh contemporary Williams Towns shape with a V8 engine designed by legendary Aston Martin engine designer Tadek Marek, the AM V8 represented a leap forward in the marques model range. The earlier Series 2 models produced between 1972 and 1973 were supplied with a Bosch Fuel Injection system which proved promising but ultimately unreliable; many Series 2 cars have since been converted to a more reliable carburettor setup.
Featuring the full 4-seat layout of a true Grand Tourer and powered by the V8 unit that would go on to power the Nimrod Group C racer and the 200mph Bulldog concept, the AM V8 had practicality and performance in equal measure. In fact the V8 engine design was held in such high regard it would remain in production in one iteration or another until the end of the millennium, while the William Towns external design remained in the Aston Martin line-up until 1989.
The AM V8 would go on to be an iconic model for Aston Martin, helping the company survive through the troublesome 70s and 80s. After nearly 20 years since the DBS appeared in On Her Majesty's Secret Service, Aston Martin returned to the James Bond franchise when the V8 starred in Timothy Dalton's 007 debut The Living Daylights. With Silver Screen looks and world-beating performance, the AM V8 represents the core qualities of a classic Aston Martin.
About Aston Workshop:
Aston Workshop is an independent Aston Martin specialist located on Red Row Estate, an idyllic 37 acre venue set in the North East countryside. Red Row is located in County Durham, only 2 miles away from Beamish Museum, one of the North's major tourist attractions. We offer a wide variety of contemporary Aston Martins for sale in our showroom including special editions, low mileage examples and high-performance models. Typically we have around 80 cars on-site at any given time. Additionally, we have an unrivalled selection of valuable heritage models which are rare and often rebuilt to bespoke specifications with discrete modern enhancements. Typically stocking fully restored examples, older restorations, drivers, 100% electric zero-emission EV conversions and even barn finds, our showroom is an unrivalled experience for the Aston Martin Enthusiast. We also build cars such as our DB4 GT Zagato recreations and our V8 Evolution 6.0.
Our sales showroom is supported by over 40 vastly experienced workshop staff working with a wide range of comprehensive in-house facilities including all aspects of Aston Martin diagnosis, repair, servicing and restoration to concours standards. Each member of our team works hard to ensure that we stay at the forefront of Aston engineering technology, Aston parts supply and full restorations including fixed-price services where applicable.
Our experienced team are also pleased to help and advise if you are a collector or seeking to purchase a car specifically for investment purposes.
The benefits of buying and selling with us include:
Nationwide collection and delivery service on our own covered transporters
Cars which are prepared by technicians working exclusively on Aston Martins
Our own Aston Workshop Warranty
A comprehensive customer service that truly works for the duration of ownership
The confidence of dealing with a leading independent specialist established over 30 years