V8 Series IV \"Oscar India\"
ENQUIRE NOW
Sold
Use our bespoke finance calculator to discover how we could help you to get the car of your dreams.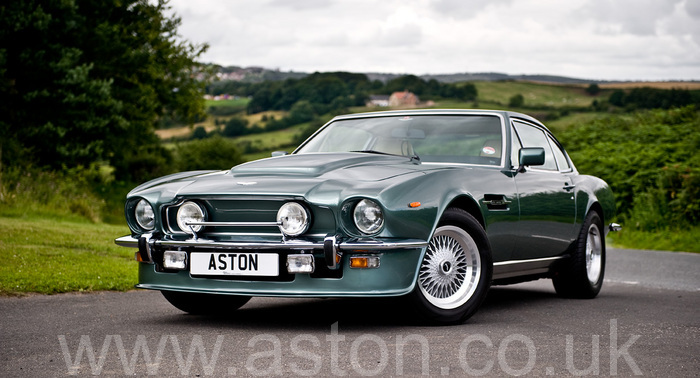 We have a lovely, original and fine example of an early Series 4 automatic Aston Martin V8 saloon. It is a well above average example with a substantial restoration/history file going back to its first registration of 2nd February 1979 with the original service books available for scrutiny. Among the expensive items attended to include inner and outer sills, rear suspension mounting points, a full respray in a very attractive shade of Sage Green, suspension rebuild, full re-trim in magnolia hide with dark green piping and carpets. It is fine mechanical order, with the benefit of a detailed health check, the results of which will be provided to the new owner. The performance of the standard V8 is often compared to the V8 Vantage, introduced at about the same time as the Oscar India series 4 cars commenced production. This is unfortunate for the standard car has a lively performance, that is quick, refined, quiet and provides a relaxed, capable and comfortable car in which to tackle long distance journeys. Capable of a 0 to 60 time of 7 secs and a top speed of 146 mph, figures that few production cars could rival, then and now. The particular model, oft referred to as Oscar India, marked a determined intent by Aston Martin to upgrade general quality and specification of the Aston Martin production V8s. It was one of the first steps taken by the then Managing Director of Aston Martin, Victor Gauntlet to reinvigorate sales prospects, following Aston Martin's recapitalisation on its takeover by Victor Gauntlet. Among the features that came with the Oscar India cars include fine highly polished walnut trim to doors and dashboard, leather headlining, a rear spoiler built into the boot lid, alloy wheels and a general uplift to interior and exterior fittings, equipment levels, mechanical refinement and a small upgrade in power and torque. An upgraded air conditioning system completed the long list of the detailed improvements that came with the series 4 cars. This particular car remains in unspoilt and fine condition. It appears to be very sound with a good chassis and engine and is in fine mechanical order. The car has wanted for nothing during its recent life time and has, for its age, very limited recent use. The car is to be highly commended and few such models are available in comparable condition. As the most desirable of the V8 Saloons, they command a significant premium over earlier models. We would strongly recommend that any interested parties consider paying us a visit to both view and drive this Aston. Price on application. There are a number of upgrades that are available, including a change from RHD to LHD, Additional performance upgrades are also available. If this is the car for you but the colour is wrong, a possible change in colour can be readily accommodated.