1986 Aston Martin V8 EFIS Series 5
SOLD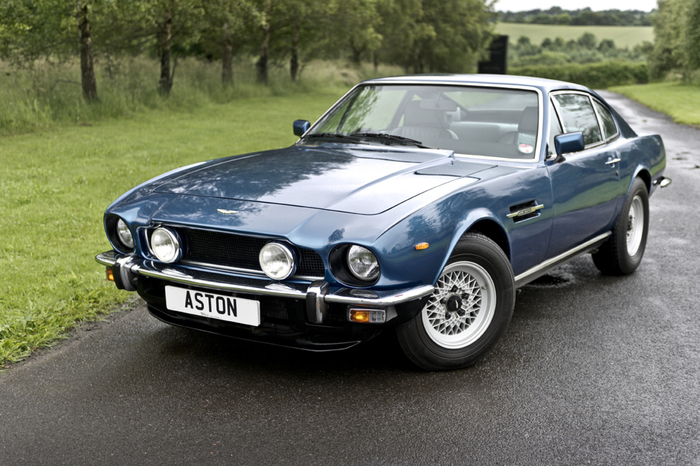 Sorry this car is now SOLD. Please register your interest using our Car Finder service.
Aston Workshop are delighted to offer for sale this rare 1986 Series 5 Aston Martin V8 Saloon Efi Auto RHD in Salisbury Blue metallic. We supplied this Aston Martin to the current owner 16 years ago in which time it has always been maintained by ourselves every year since.
This car has been maintained with a mind to the future and the condition and service record is a testament to that, all Aston Workshop invoices are available for inspection
A very original, automatic Series 5 V8 Saloon, first registered in 1986. This classic Aston Martin looks magnificent in Salisbury Blue metallic with matching interior of Stone Grey hide with black piping and contrasting blue carpets. One of only 61 Series 5 V8s ever made, these are very rare cars and it is unusual to find such an example with comparable originality and quality. Our Series 5 V8 Aston Martin has a good history file and evidence of careful maintenance with two of the UK leading Aston Martin specialists. It is structurally sound, cosmetically excellent and with a lovely lightly patinated original interior. The overall mechanical condition would reflect the general standard of the Aston and is ready, subject to a full service 250 miles ago, following a PDI Service, will be ready for immediate use. It is an excellent example of a late V8 that has not been altered in any way. A car to use and enjoy!
Model history:
The final version of the AM -V8 came with the launch of the Series 5 V8 Saloons in 1984, this time with Weber electronic fuel injection. With exhaust emission standards becoming ever more stringent, the development potential of carburettor induction had reached its limit of development and this necessitated the use of an electronically controlled closed loop fuel injection system. The Series 5 car can be instantly recognised by the absence of the bonnet power bulge. The rear boot spoiler was continued as with the earlier Series 4 V8s. Quality in general was a pre-eminent objective and as the last of the Aston Martin V8 production, the Series 5 cars are generally regarded as the best, most refined and reliable of all. While the use of Weber fuel injection does not provide a significant improvement in performance and power, it conferred a radical improvement in general refinement and tractability, as well as some improvement in fuel economy. +44 (0)1207 233 525.