1991 Aston Martin Virage
SOLD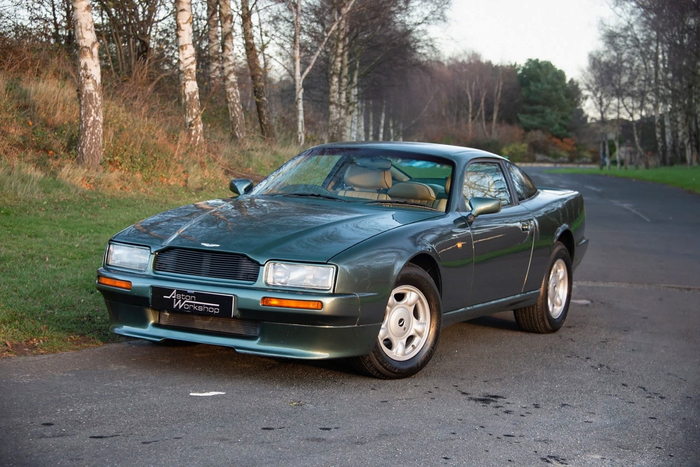 "One of only 426 Virages produced between 1988 and 1995"
We are delighted to offer for sale this handsome 1991 Aston Martin Virage presented extremely well in Chilton Green with Parchment leather interior complemented by the Green piping. Having covered only 50,437 miles from new with an excellent service history.
This particular Virage has an extensive specification which includes air conditioning, electric memory heated seats, rear parking sensors, 6CD multi-changer, alcantara roof lining and an AMV private number plate. It's presented in excellent condition both mechanically and cosmetically and has been serviced by UK specialists in recent years, it is very apparent it has been regularly maintained throughout its life.
One of only 426 Virages produced between 1988 and 1995. With the Virage being produced in such small numbers that this stunning car could prove to be a sound investment.
Introduced at the 1988 Birmingham Motor Show, the Virage was Aston Martin's replacement for the decades old V8 models. The Virage was launched as the top of the range car for Aston Martin. It is easy to see why this hand built, all aluminium V8 was king of the Astons. The 32 valve, 5.3 litre engine elevated the performance of the Virage to near sports car level. It was stated by Sports Car International on an early test that Acceleration just never seems to run out and they also praised the eager and quicker revving nature of the engine, with its Callaway designed heads and Weber-Marelli fuel injection. They concluded that nothing sounds quite like an Aston V8.
This is truly a great value Aston Martin and is ready to be enjoyed with a full service and MOT being supplied on completion of sale.
If you're interested, please give us a call or an email to discuss the car in more detail. Call us on +44 (0) 1207 233 525
About Aston Workshop:

Aston Workshop is an independent Aston Martin specialist located on Red Row Estate, an idyllic 37 acre venue set in the North East countryside. Red Row is located in County Durham, only 2 miles away from Beamish Museum, one of the North's major tourist attractions. We offer a wide variety of contemporary Aston Martins for sale in our showroom including special editions, low mileage examples and high performance models. Typically we have around 80 cars on site at any given time. Additionally we have an unrivalled selection of valuable heritage models which are rare and often rebuilt to bespoke specifications with discrete modern enhancements. Typically stocking fully restored examples, older restorations, drivers, 100% electric zero emission EV conversions and even barn finds, our showroom is an unrivalled experience for the Aston Martin Enthusiast. We also build cars such as our DB4 GT Zagato recreations and our V8 Evolution 6.0.

Our sales showroom is supported by over 40 vastly experienced workshop staff working with a wide range of comprehensive in-house facilities including all aspects of Aston Martin diagnosis, repair, servicing and restoration to concours standards. Each member of our team works hard to ensure that we stay at the forefront of Aston engineering technology, Aston parts supply and full restorations including fixed price services where applicable.

Our experienced team are also pleased to help and advise if you are a collector or seeking to purchase a car specifically for investment purposes.

The benefits of buying and selling with us include:
Nationwide collection and delivery service on our own covered transporters
Cars which are prepared by technicians working exclusively on Aston Martins
Our own Aston Workshop Warranty
A comprehensive customer service which truly works for the duration of ownership
The confidence of dealing with a leading independent specialist established over 30 years