1965 Jaguar E-Type Series I 4.2 FHC (Broadsport)
£159990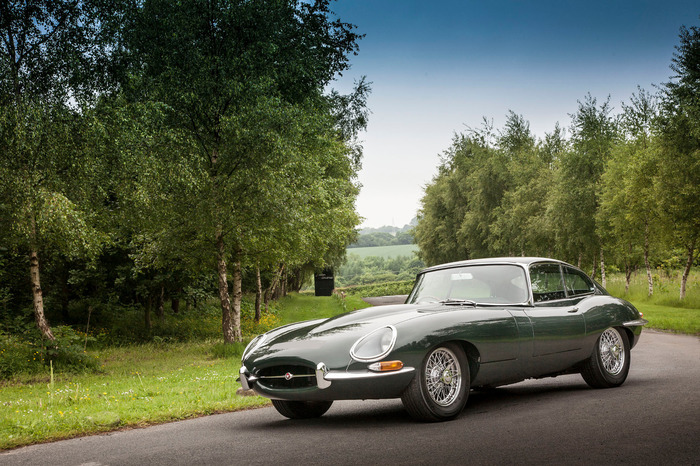 We are delighted to offer for sale this outstanding 1965 Jaguar E-type Series 1 4.2 FHC. Presented in a beautiful Aston Martin green metallic with a very complementary green suede leather interior, this Jaguar E-Type is particularly striking.



This is the 'ultimate' E type and the work of Jaguar engineering genius Guy Broad. This quintessential British icon is both stunning to look at and drive thanks to the faultless engineering that make this a high speed grand tourer.



This example has received what can only be described as a full restoration that has benefitted from a superb and comprehensive Broadsport upgrade that makes the above possible. The extensive programme of upgrades is described in detail below.



Bodyshell:
The superb original body shell was in great shape and only needing localised repairs after media blasting and etch priming.



Engine:
The 4.2l unit has been meticulously rebuilt with a rebored block and 9:1 compression, Mahle pistons, ACL duraglide bearings, rear oil seal conversion to lip type rubber, upgraded oil pump, new timing gears and chains, hydraulic tensioner and guides, re-hushed and resized con-rods which were balanced and fitted with new bolts, new steel billet flywheel (9kg) with upgraded AP clutch kit, all items balanced, cylinder head pressure tested then gas flowed and ported, new valves with new followers and upgraded valve springs, new 3/8" lift correct profile D Type camshaft, new water pump, full electronic ignition, 80 amp alternator kit, "spin on" oil filter conversion kit, silicone plug lead kit, fully rebuilt original HD8 SU carburetors, and finally gas flowed and port matched inlet manifold.



Gearbox:
A Broadsport 5 speed gearbox with a 0.73:1 final gear ratio has been fitted with the addition of a new balanced prop shaft.



Front suspension:
The original wishbones have been media blasted and zinc plated before being reassembled with full polybush kits, new ball joints, new bearing, new seals, new hubs, an upgraded front anti roll bar kit, fully adjustable ride height torsion bar kit, all new fixings zinc plated as original and double adjustable AVO shock absorbers.



Rear Suspension:
All components have been stripped and media blasted or acid cleaned, the 3.54:1 'power lock' differential has been fully rebuilt with new bearings, seals and LSD plates, the suspension cage along with drive shafts and wishbones have all been etch primed and powder coated, completely rebuilt with new fulcrum bearing kits, new hubs, new brake discs and new drive shaft UJ's. Finally,double adjustable AVO shock absorbers with upgraded coil springs have been fitted along with new radius arm mounts and axle caged vee mounts in polyurethane.



Brakes:
Front brakes are AP racing 4 piston (5200) calipers with 295x25mm ventilated 2 piece brake discs, stainless steel Aeroquip brake hoses, full kunifer pipe kit and all brass fittings/unions, new and correct brake master cylinder and servo unit. Rear brakes are Girling 2 piston (12/3) calipers new as normally fitted to series 2 E-Types and XJ6 models with completely rebuilt handbrake units and new brake discs and pads.

Fuel system:
There is a brand new fuel tank with fittings upgraded, a facet fuel pump kit, completely new fuel lines, new filter bowl and new unions throughout.



Cooling System:
The original radiator with a new high performance core is fitted, along with a new header tank assembly and a silicone water hose kit with a performance electric fan kit and all stainless steel hose clamps.



Exhaust System:
A full six branch stainless steel system, 2 inch bore with correct pattern silencers and tail pipes is fitted, including all new fittings and mounting.



Steering:
A new high ratio steering rack is fitted, as well as new poly mountings, new UJs, new track rod ends and fully rebuilt upper and lower steering columns to original finish and spec. The car also has new EZ variable power steering which works up to 30mph then cuts out - fitted by Browns of Ryton.


Wheels:
6"x15" 72 spoke offset competition wheels are fitted with stainless steel spokes and chrome rims and hubs. These are tubeless specification and fitted with 205x70 radial tires and 3 eared new chrome wheel spinners to special order.



Exterior fittings:
All original chrome work has been professionally stripped,polished and triple plated to an as new factory finish, new lamps front and rear have been installed, new bright work is fitted wherever necessary, the door locks have matching key barrels, all new rubber seals, gaskets and trim are fitted, new "Sundym" glass(light green tint) with additional of heated rear screen (fine element type) is fitted, along with a badge bar and detailed pieces all as original and new.



Interior:
This has been completely and fully re-trimmed to correct Jaguar specification, leather, carpets, hardware and correct fixtures and fittings are all in as new condition to original specification. A radio with MP3 connection is included in the centre console in period style, seats belts are included, the heater system has been fully rebuilt with a new matrix and fan motor all to original specification and finish, all instruments have been fully restored to as new condition, there is a complete new cloth covered wiring loom throughout, and all clips and joints are new and to theoriginal specification.



Other items:
All under bonnet fittings are finished to the original specification, including the air cleaner assembly, fan cowls, pipe work, wiring, clips and decals all to replicated correct 1965 fit and finish.

For more information or to arrange a viewing please contact our sales team.