1980 MG B Roadster Aston Martin Prototype
Sold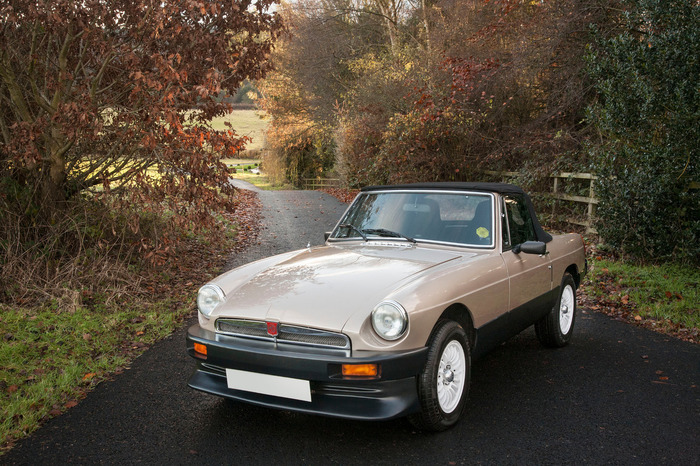 We're delighted to offer for sale this incredibly rare, one-off Aston Martin MGB Prototype. Finished in Gold Champagne metallic with special Tickford Black interior trim, it comes complete with a fantastic history file including many special articles from the motoring press.

This example has had just 6 former keepers and covered only 6,915 miles from new! Presented in immaculate condition and a great investment opportunity for any MG or Aston Martin collector, we anticipate a great deal of interest.
Own a piece of British motoring history!

For more information or to arrange a viewing please contact our sales team.

------------------------------

Engine - 4 Cylinders in line, Chain driven camshaft, cast iron cylinder head and block, 2 SU inclined H4 Carburettors, oil cooled.

Transmission - RWD, Borg & Beck Spring Clutch, 4 speed manual gearbox, all- synchromesh.

Chassis & Brakes - Steel monocoque structure, Semi-elliptic springs, Armstrong lever dampers, Lockheed hydraulic brakes, front discs, rear drums.

Performance - Max speed 108.1MPH, 23.0MPG, 0-60 12.1 sec

On the 10th September 1979 became known as "Black Monday" among MG enthusiasts around the world, because it was the date that BL finally went public with their plans to shut Abingdon factory, after fifty successful years of sports car production. Shockwaves reverberated around the industry, and it did not take long for several influential enthusiasts to band together and formulate a plan, with which to buy the factory and (they hoped) the MG badge from BL.

By October 1979, the consortium, which comprised of Alan Curtis (chairman of Aston Martin), David Wickens (BCA), Peter Cadbury, Lord George-Brown and Norwest construction group went public with their plans to save Abingdon. The consortium had at least £30 Million at their disposal, with which to buy Abingdon - but they made it clear that going into talks with BL, they wanted to acquire the rights to the MG marque name and the MGB. The reasoning was quite simple - with the factory, the car name, they could continue production... there would br no interregnum between BL's disposal and their taking over of MG, with these plans very much in mind, Curtis went into what can only be described as a battle with BL in order to settle. However, there was what can only be described as a huge stumbling block; and was the fact that BL wanted to keep the rights to the MG name, and in fact, were tentatively developing their own replacement for the MGB, closely based on the TR7, However, Curtis was adamant that he would be able to gain the marque name and the car (as well as the factory) and he had already started work on the company's own revised MGB.

However, the negotiations dragged on, and finally in April 1980, a deal between the two parties had seemingly been reached. BL agreed that they would sell Abingdon factory to the consortium, along with the rights to use (but not own) the MG name. The £30 million funding that Aston Martin used in the negotiations with BL, however, now proved a little more elusive - Aston Martin was embroiled in its own financial problems thanks to exchange rates (that ironically were a reason cited by BL for the closure of Abingdon). The global recession also meant that some of the financial backers that were initially keen at the end of 1979 were not in a position to make good their promises...

Undeterred, Aston Martin showed the William Towns face-lifted MGB to the press in June 1980, stating that it was their intention to launch this at the '81 model.

Unfortunately, BL closed negotiations at this point, losing patience with the consortium, thanks to their inability to commit financially. That proved to be a black day in BL's history, because it committed the company to closing Abingdon for good, after selling it off.

During the negotiations, BL formulated its own plans to save Abingdon, which revolved around setting up a special vehicles operation there... they came to nothing, and were dropped during the Aston Martin negotiations; in fact probably because of the Aston Martin negotiations.