1998 Mitsubishi Jeep 2.7 TD (J55)
SOLD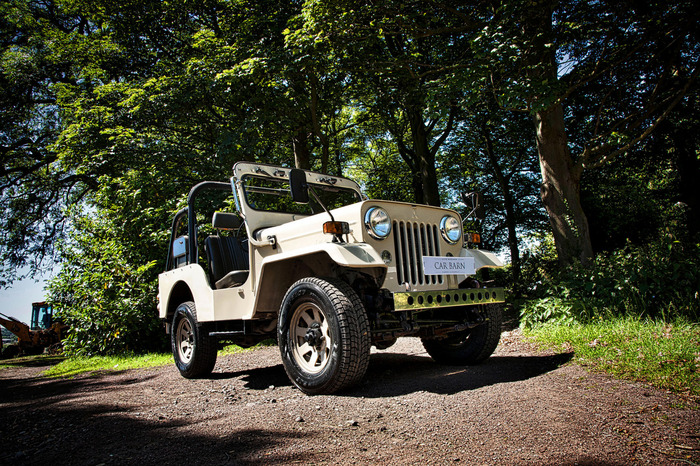 We are delighted to offer for sale this 1998 Mitsubishi Jeep (J55) that we personally imported from Japan and have subsequently UK registered on 1 January 2018.

This very rare and sought after 'final edition' J55 model has the preferred uprated 2.7L 4DR6 turbocharged engine producing 100 bhp.

Fresh from import, this Jeep was subject to a full engine service and lubricants change [by the Aston Workshop]. The body work was in great original condition but we thought it could benefit from a respray in the original Magnolia Cream at our world class onsite Aston Workshop body shop.

In 1953 Mitsubishi secured the rights to build the Willys under their own name and the Mitsubishi Jeep was born. In the USA the Willys was built until 1965 but in Japan, Mitsubishi had a good thing going so they kept the line in production until 1998. Mitsubishi installed the 4DR5 2.7L 4 cyl Diesel engine that puts out a much more useful 100 hp and moved these Jeeps down the highway at 100 km / hr or 60 mph. They return an amazing 35 mpg. They have full time hubs, reverse turn glow plugs and is the ultra tough 24V system. The passenger seat folds up completely to give very easy access to the rear of the Jeep. Crawl down the steepest hill or race up the nearest dune, this gutsy miniature tank can handle it all. The very sharp approach and departure angles will be the envy of all and the superb break over angle will be hard to beat in any stock 4X4. This stock J54 can run 31" tires with absolutely NO LIFT required. Ready for the rugged out doors. Pick a trail and enjoy one of the best off-road vehicles ever made. The beauty of the Willy's body style coupled with the strong and reliable Japanese engineered drivetrain using the D44 out back and the D30 up front, gear to gear t/case with a 2.3 low range, 4.77 differential gearing and you are ready for the great out doors. This is the final year of production and it has very few miles . On the dashboard you can see from the pictures that it carries the anniversary badge too. This light utility 4X4 is now ready for the road or some off road fun.
This limited edition vehicle is one of the last three hundred to be produced bringing to an end a great era in the checkered MITSUBISHI JEEP history.
For more information or to organise a viewing please contact the sales team on: +44 (0)1207 233 525.