1970 Morris 1000 Traveller
SOLD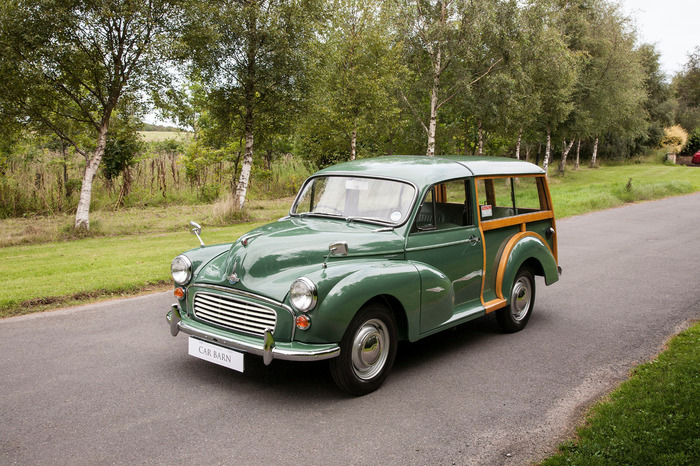 Sorry this car is now SOLD. Please register your interest using our Car Finder service.
We are delighted to offer for sale this stunning, one family owned, multi concours winning, Morris 1000 Traveller. Notably this example has won the Autoglym Master Champion concours event at the NEC.
Finished in its original paint and interior colour scheme of Almond Green exterior and Porcelain Interior trim, this example is presented in the most fabulous condition having been fully restored over 30 years ago (please see the detailed underside, engine and interior photographs).
This Morris Traveller was built in the latter part of 1969 destined for the Newcastle Brewery in 1970 but was cancelled and supplied to the Curry family to be used for business purposes by Charles G. S. Buist LTD of Darlington. It came with the optional additions of continental boomerang wing mirrors, seat belts, reflective number plates and anti- freeze; all of which is documented in the original bill of sale. Also supplied is the original passport to service, driver's handbook, BMC approved accessories guide, original insurance cover notes and 1970 issued fuel ration booklets.
This Traveller is without doubt the finest available for sale in the marketplace today and has been loved by one family having both the Mother and Son passing their driving examinations in the car (as demonstrated in a photograph of Mr Curry aged 17 on the day he passed his test).
For further information or to arrange a viewing please contact our sales team.
As noted in the above, this Morris has won many concour events, please a list of those below:
North East Morris Minors Owners Club
• Sewell Trophy winner 1984
• Sewell Trophy winner 1985
Morris Minor Owners Club
• Concourse 1st 1985 Harewood House
• Concourse 1st 1987 Harewood House
North East Branch Rover P4 Show
• Best car in show 1988 Seaham
Benson and Hedges Concours Events
• Class win June 1988 Ripley Castle
• Runner up July 1988 Callender Park
• 3rd Place July 1989 Beamish
• Class win July 1989 Callender Park
• Class win May 1990 Kinneil House
• 3rd in show April 1991 Tatton Park
• Runner up June 1991 Rouken Glen Park
• Northern Ireland National Champion 1991 Shanescastle
Simoniz Classic Car Concours
• Falkirk class winner 1993
• Second best in show 1993
Autoglym Concours Events
• Class win July 1994 at Silverstone
• Runner up November 1994 NEC Final
• Class wins in 1995
• Class wins in 1996 – 1997
• Runner up November 1997 NEC Masterclass Final
• Master Class Champion 1998 NEC