1954 Austin Healey 100 BN1 - 4 Speed
ENQUIRE NOW
£79,990
Use our bespoke finance calculator to discover how we could help you to get the car of your dreams.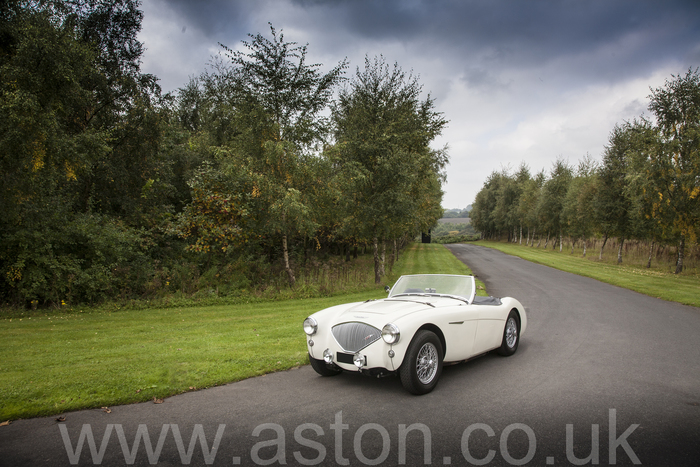 Austin Healey 100 BN1 - 4 speed, Le Mans conversion first registered 1954/5. An original UK car with matching numbers.

The Le Mans conversion was part of a recent, complete refurbishment undertaken over a period of 3 years.

Work included;
Engine and gearbox stripped (out of the car) and the gearbox replaced (completely rebuilt and reconditioned with rebuilt overdrive). The engine was converted to Le Mans spec which included higher compression pistons, piper fast road cam and 1 in and 3/4 twin SU carburettors with cold box.

At this stage it was also decided to fit an upgraded, high performance starter motor and electronic ignition distributor. This not only improves the performance but also reliability.

The running gear was checked and upgraded where it matters and completely overhauled.
Upgrades included Front disc brake conversion, high performance anti roll bar, all steering bushes and bearings replaced and heavy duty shock absorbers fitted. A new exhaust system was also fitted. All wheels were then checked & tuned for straightness as well as spokes replaced where necessary. The wheels were then powder coated and fitted with the correct Michelin tyres, those that were fitted as the works cars left the factory, all four splines were replaced at the same time.

The body was striped and prepared for re-painting. The bumpers were removed and a new alloy louvered bonnet was constructed, painted and fitted with the leather bonnet strap. Twin Lucas lamps of the period were rebuilt and fitted. The hood frame, hood and tonueu cover have all been replaced. The original bumpers were re-chromed and the brackets were powder coated and come with the car as does the original steering wheel, and brake drums.

A tuely exceptional Healey that is sure to appeal to enthusiasts & collectors alike

For more information or to arrange a viewing please contact the sales team on 01207 233525.