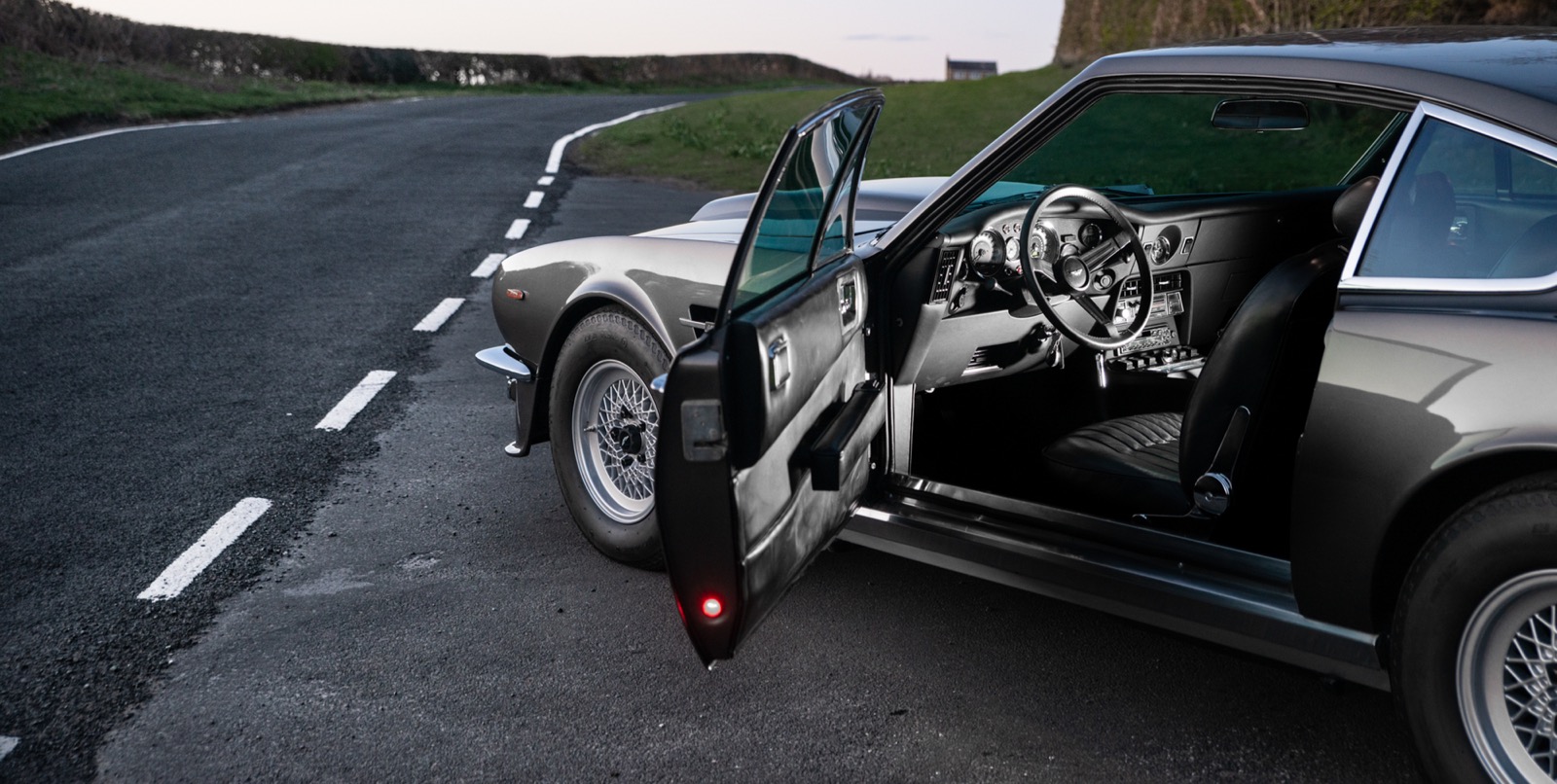 Leading the way
with the Evolution 6.0
For full details download the brochure
DOWNLOAD
'Together, these improvements build on the original character of the AM V8s while ensuring they are vastly more capable'
---
Aston Workshop is delighted to offer its Evolution 6.0 package for the Aston Martin DBS V8 and AM V8. A complementary portfolio of upgrades encompassing powertrain and chassis components, Evolution 6.0 is informed by Aston Workshop's decades of experience restoring and unlocking the true potential of these exceptional sporting grand tourers. A thoroughly re-engineered V8 engine conversion lies at the heart of Evolution 6.0, enlarged from the standard 5.3 litres to 6.0 litres, assembled in our on-site engine room, and available in two main states of tune. When equipped with four Vantage-specification 48 IDF Weber carburettors, Evolution 6.0 engines deliver a nominal 380bhp plus a 20 per cent increase in torque, spread generously from 1500 to 5000rpm – that's a sizeable uplift from the 320bhp and 250-260lb ft typical of a factory-spec V8. X-pack takes things a stage further, with a slightly increased compression ratio and uprated camshafts. The result is a nominal 460-470bhp, with an additional 20 per cent torque from 1500 to 5000rpm. This is our ultimate state-of-tune for a fast-road specification V8, and delivers phenomenal energy during spirited driving, without compromising driveability and refinement at a more leisurely pace. Electronic fuel injection is also available, packaged neatly beneath an original airbox for a period-correct appearance. Evolution 6.0 upgrades extend to transmission, chassis and braking enhancements, including the option of a modern six-speed automatic transmission. Together, these improvements build on the original character of the AM V8 models while ensuring they are vastly more capable in every regard. The result is far greater levels of performance with a corresponding uplift in vehicle dynamics, safety and reliability to suit the demands of modern driving conditions. This is not a one-size-fits-all programme of upgrades, rather Evolution 6.0 provides a framework within which each customer can order their dream specification. Contact Aston Workshop to discuss creating your dream Aston Martin AM V8 today.
---
THE ENGINE

The V8 engine family lends itself to a wide range of upgrades and enhancements. 5.7 and 6.0 litre capacity upgrades are our most popular conversions, with an excellent increase in low - mid range torque,they enhance the driving experience giving prodigious acceleleration.

EFI CONVERSIONS

Aston Workshop's Bespoke, EFI system is an accumulation of a 2 year extensive development programme. During the development period we carried out many hours of engine Dyno and rolling road testing, along with thousands of road miles to ensure reliability and refinement was achieved.

GEARBOX CHOICE

When Tadek Marek designed the V8 he fitted a 5 speed manual gearbox. However, at the time, the only Auto box available was a 3 speed unit. Aston Workshop now offer a 6 speed automatic gearbox that is fitted without any material modification to the car. The gearbox can be driven in full Auto mode or in "tap shift" manual mode.

HANDLING KITS

The V8 models were introduced with independent front and rear suspension. An enhanced handling kit comprises of uprated springs, adjustable dampers and stiffer front anti - roll bar. Going a stage further, a rear anti - roll bar can be fitted.

UPGRADED BRAKES

Originally the front brake disc size was 266mm but our kits comprise of larger 295mm vented discs and 6 pot calipers. Two kits are available depending on the type of wheels fitted.For better feel and enhanced performance flexible rubber brake hoses can be replaced with braided units.

RHD TO LHD CONVERSIONS

As can be seen, the quality and original appearance is excellent and anyone contemplating a RHD to LHD conversion can rest assured that the conversion process is straight forward, taking no more than a few weeks to accomplish and that we are very experienced in carrying them out.
To enquire about any of Aston Workshop's upgrades
please call 44(0) 1207 233 525 or
Email
neil@aston.co.uk
for a quotation.
You can also find more information in our Aston Workshop Newspaper
here >>>